First a series of acclaimed novels, then a global film phenomenon, Harry Potter has become canon in the realm of popular culture.
With this international success, it comes as no surprise that all things Harry Potter skyrocketed in popularity, so much so that LEGO released a collection of Harry Potter Lego.
If you've got a prized Harry Potter lego collection in need of a home as magnificent as Hogwarts, then Showfront has a Harry Potter lego display cabinet for you.
Building lego is a challenge, but displaying the finished product can prove to be just as difficult. If you want a Harry Potter lego display cabinet that meets all of your needs, it's time to stop searching through stock-standard retailers and explore the range of custom Lego Hogwarts Castle display cabinets from Showfront.
You've no doubt spent considerable time, money and effort creating your Harry Potter lego pieces, so it seems only fitting that your collection be put on show in a Lego Hogwarts Castle display cabinet that is made to your unique specifications.
Choose from cabinet size and shape to frame colour, LED lighting and added security locks. When shopping with us, you can feel confident that your Lego Hogwarts display cabinet is manufactured in Melbourne from premium quality materials and built by expert craftsmen.
We also offer excellent service and unbeatable value for money – show us a written quote with like-for-like specifications and we'll beat it by 10%, GUARANTEED.
Thanks to our dedicated collector customers, we've got some Harry Potter Lego display cabinets that we've previously created to inspire your very own Lego Hogwarts Castle display case.
The wizarding world comes to life in this magical display, courtesy of Angelo and Carmelo. This black TGL 1000 Glass Display Cabinet was the winning entry from our 2020 display case competition. The Harry Potter Lego display cabinet included 2 sliding glass panels with an added lock and cool LED lighting. The glass shelves were also adjusted to accommodate the different heights of the Harry Potter Lego, making it the perfect fit.
The Showfront Lego Hogwarts Castle display cabinet was the ideal display case for their 2 Hogwarts models, triple-decker Knight bus and Hogwarts Express as well as thestrals, dragons, the Whomping Willow, Hagrid's hut and plethora of characters.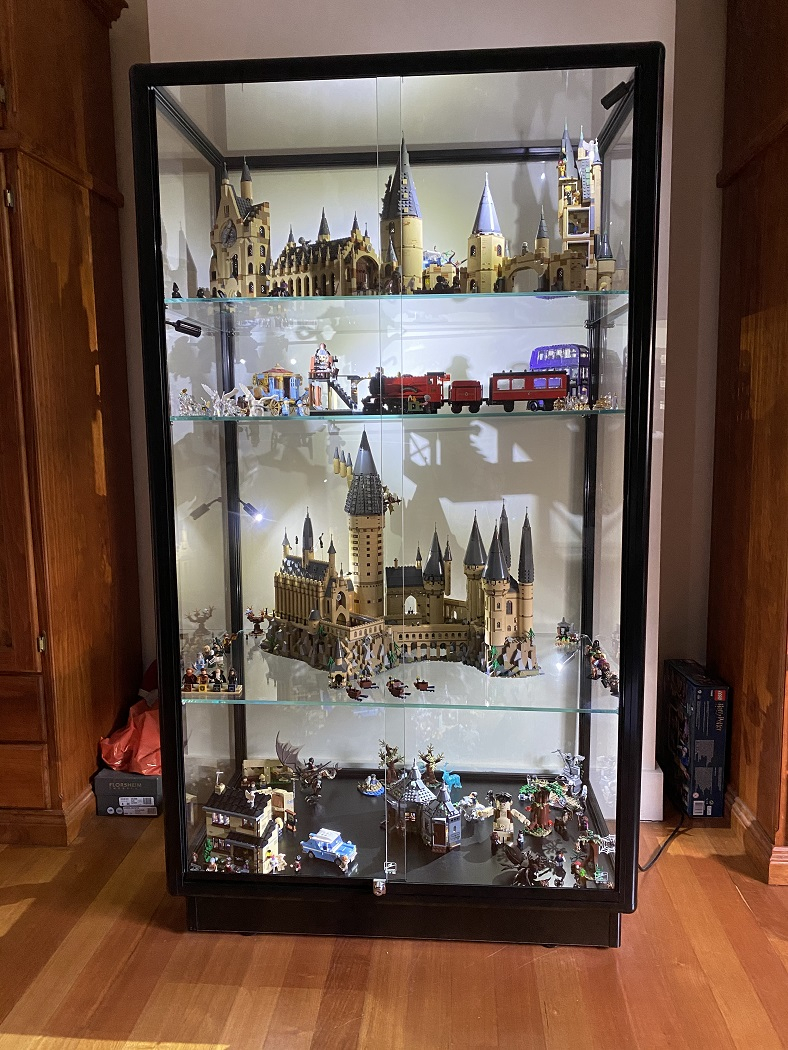 If your collection requires more space than your average Harry Potter Lego display cabinet, then why not opt for something a little bigger?
This massive Lego Hogwarts Castle display cabinet was manufactured for avid collector and loyal Showfront customer, Jason. We installed a suite of black upright display cabinets along the wall of his cinema room and created an incredible display piece that became the centrepiece of Jason's home. They are all lined with LED strip lighting and include lockable sliding glass doors.
His incredible collection includes not only Harry Potter Lego, but a vast array of different figures from an array of franchises including Disney and Star Wars. Jason's display case for Lego Harry Potter now provides plenty of room to grow his lego collection far into the future.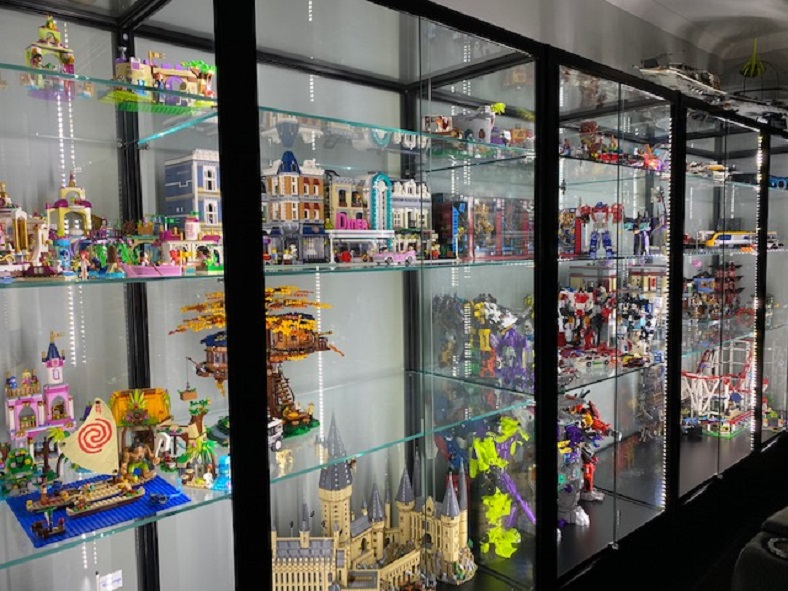 When it comes to choosing the right display cabinet for Lego Harry Potter, Showfront is unbeatable. Our expert Harry Potter Lego display case consultants can help you pick the perfect Harry Potter Lego display cabinet for your collection.
Call us today on 1300 785 694 or visit one of our showrooms in Brisbane, Melbourne or Sydney to discuss your Harry Potter Lego display cabinet needs.