Here at Showfront, we specialise in creating custom model display cases for collections of all scales. From Lego, Star Wars and Superhero figurines to Swarovski crystals, music memorabilia and model cars, there is no collection too big or small.
Whether it's life-size models or miniatures that you collect, there is an ideal scale model display case for all collectors at Showfront.
We manufacture premium, Australian-quality model display cabinets of any width, height and depth you desire, available in a range of colours and added features such as cool LED lighting, extra storage and secure locking.
For optimum visibility, the best protection and plenty of room to grow, you can't go wrong with a Showfront scale model display case.
Need some ideas for your model display cabinet? Our loyal collector customers have put their favourite pieces on display in their custom Showfront cabinets for inspiration.
This unique, custom glass corner cabinet moulds seamlessly into this collector's home, making for a space-efficient, eye-catching model display case to display his beloved classic cars. This collector opted for a silver frame and warm LED spotlights for a professional finish with a homey feel.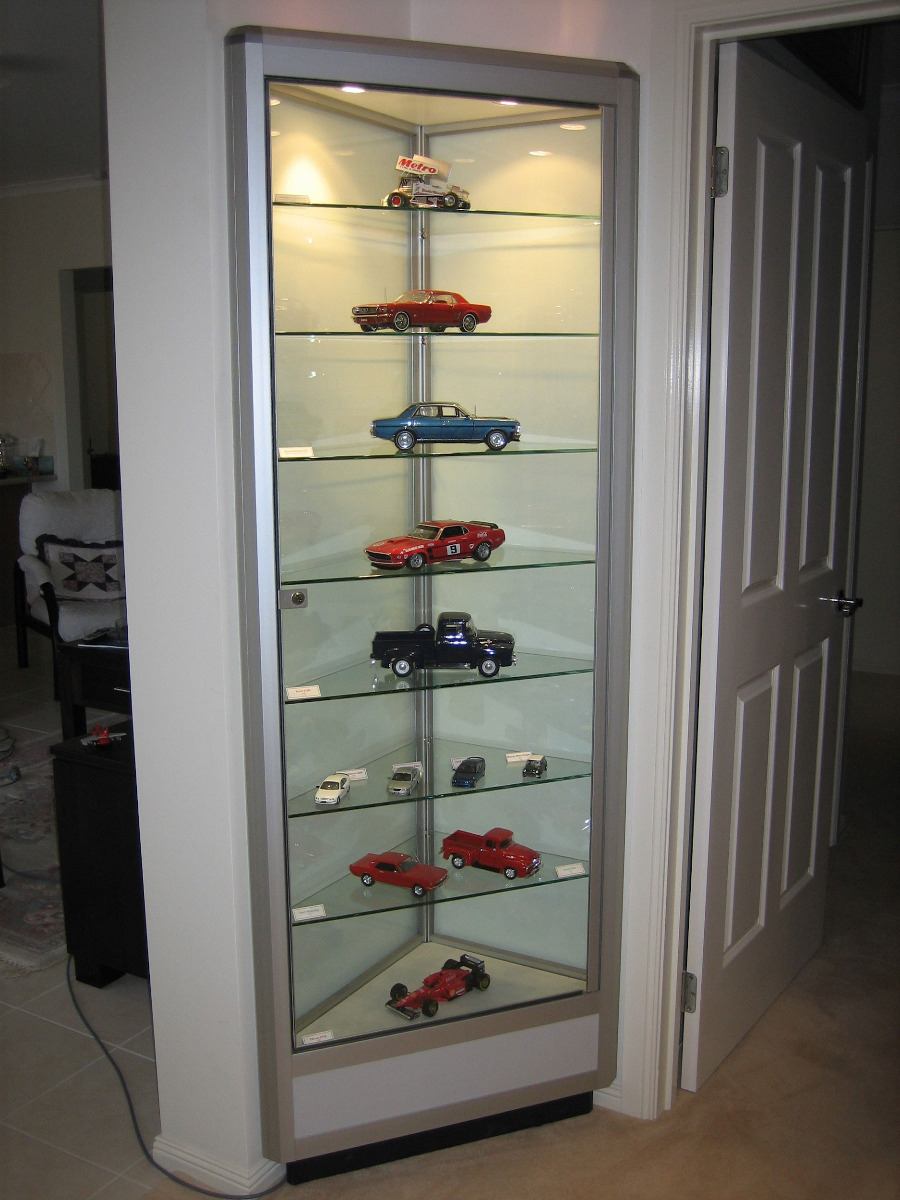 This next cabinet was the winner of our Showfront display case photography competition from September last year. The display case from avid collector, Carmelo in Victoria, houses a spectacular array of Disney castles, Transformer figurines and Lego. The sleek, black TGL 1000 spans the entire wall of the client's cinema room and includes LED strip lighting for extra 'wow' factor.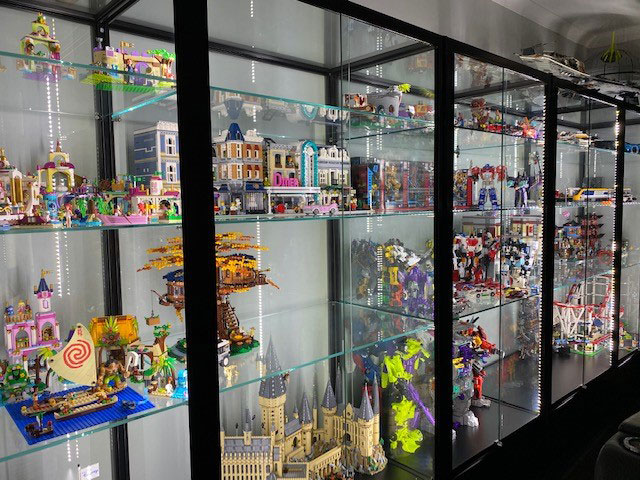 For this delicate Disney Swarovski crystal collection, Showfront's custom, white CBDL model display case accentuated the beautiful glimmering details of the precious, tiny pieces with 5 glass panels for excellent visibility from all angels.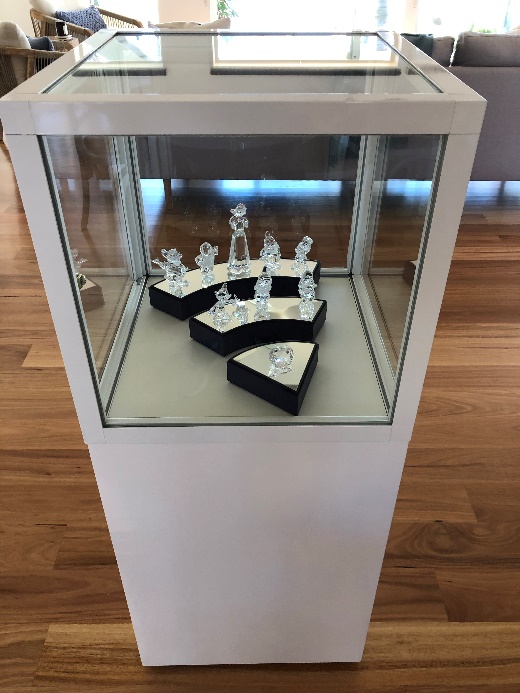 Looking for a cabinet that combines form, function and style? Then the CT 900 Coffee Table Display Case with LED lighting is for you. This mushroom style model display cabinet from Showfront houses our client's most prized possession; his millennium falcon. This model display case has become one of our best sellers and is also completely customisable to suit your home and collection.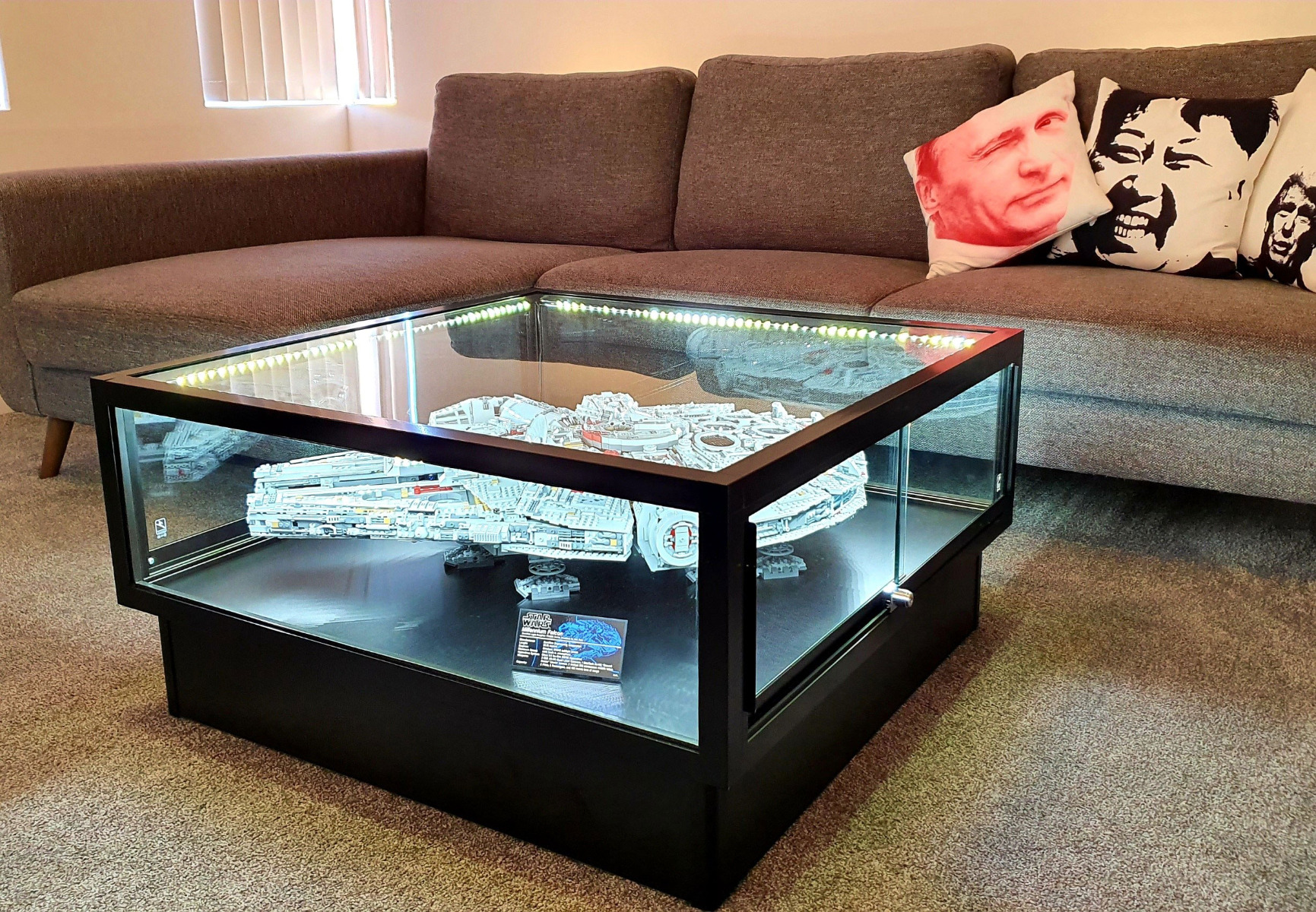 Our client, Matt was seeking a model display case that would make his collection the centre of attention. Upon consultation with our expert team, Matt decided on two silver TGL 1000 model display cases with LED strip lighting in the corners. The display cases border his entertainment unit and perfectly utilise the space as desired.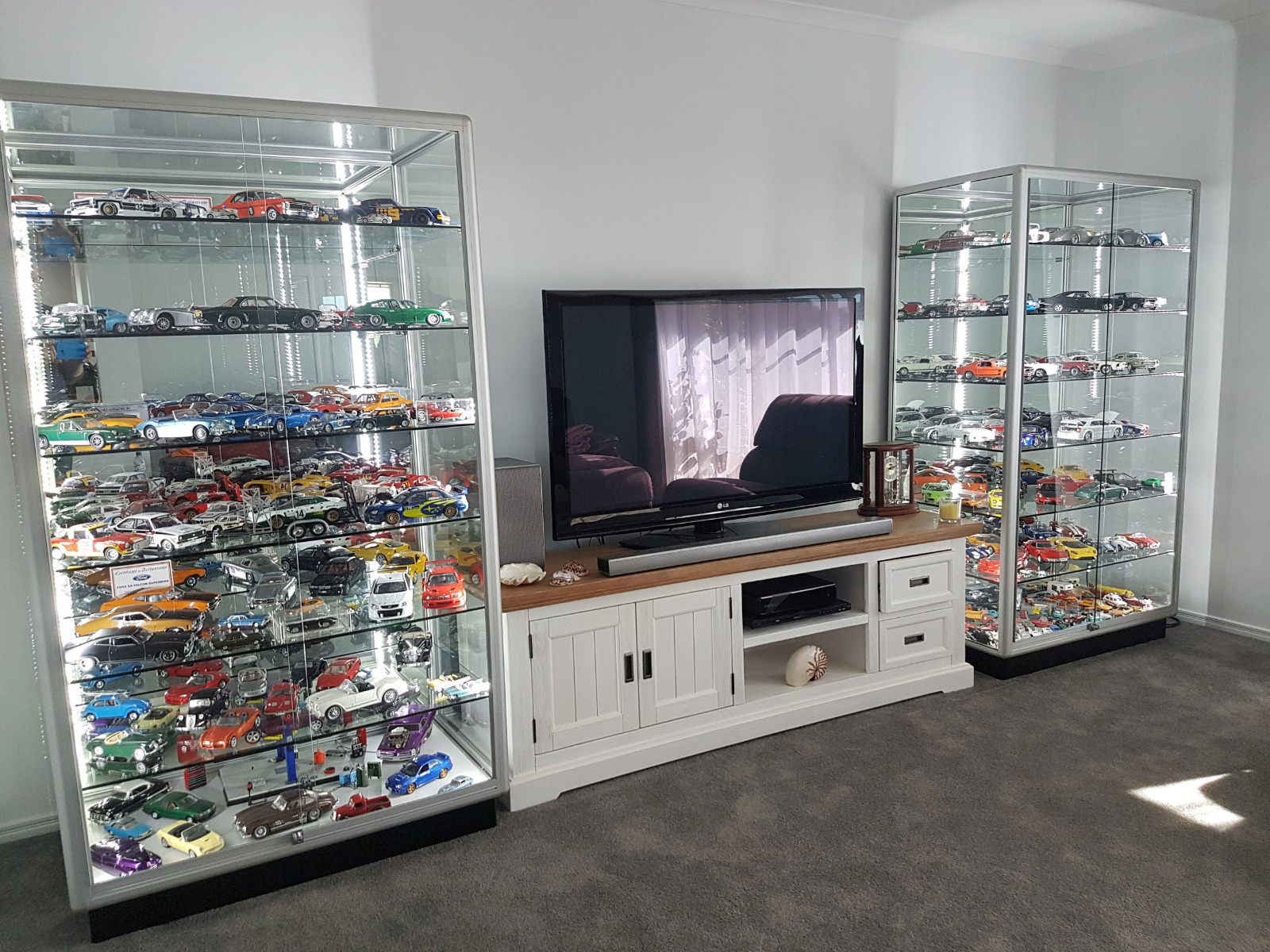 If one of our many ready-to-install cabinets isn't perfect for the job, our dedicated team are masters in creating custom scale model display cases to your desired specifications. We can help design made-to-measure scale model display cases in your choice of shape and frame colour for the ultimate bespoke collectors cabinet.
Want to make it a little more unique? We've got a huge array of add on features, like LED's and extra storage space available.
Don't waste precious time and money trying to get the perfect display case from a generic retailer, have a Showfront specialist craft a cabinet for your collection!
By choosing a scale model display case from Showfront, you're guaranteed the best quality, price and service thanks to our premium Australian craftsmanship, top-tier customer service and price-match guarantee.
With Showfront, you can buy or build the scale model display case of your dreams that will last a lifetime. Want to know the best part? You'll be supporting a 100% Aussie business in the process.
Call us today on 1300 785 694 or visit one of our showrooms in Brisbane, Melbourne or Sydney to discuss your superhero figurine display case needs.
Showfront – better quality, better value.
Durable, flexible, elegant and superbly crafted, Showfront offers a vast range of custom display cases for sale or hire. Compare the difference in price and quality - visit a Showfront showroom in Melbourne, Sydney or Brisbane. Buy online now or call our friendly team on 1300 99 36 36.