When it comes to collecting, the sky isn't the limit- especially when it comes to a Star Wars collection.

Here at Showfront, we've seen some spectacular Star Wars collections from Lego spacecraft and movie memorabilia, to miniature models and life-size figurines, many of which remain some of the most exciting cabinetry projects we've done to date.

If you're having a hard time wondering how to house your Millennium Falcon model, Han Solo and Luke Skywalker figurines or C-3PO and R2-D2 replicas, then a Showfront Star Wars figure display cabinet is for you.

Seeking some inspiration for your Star Wars figure display? Stop stashing them away in storage or on dusty shelves and give them the space they deserve with a customisable Showfront display cabinet.

If you're contending with dust, small spaces, inquisitive hands or pets, it's time to invest in a custom-built solution manufactured to your desired specifications. Not sure what you're chasing? Let one of our Showfront figurine display case consultants help you decide on the perfect Star Wars figure display case.

Skip the mediocre retailers and Boba Fett cabinetry clones, Showfront will help you create a customised Star Wars figure display case like no other. With more options than First Order soldiers at your disposal, you can have whatever colour, size, lighting, shelving and frame you desire.

In one of our recent projects, we had the pleasure of creating multiple display cabinets to house a huge collection of intricately packaged miniature Star Wars figurines, all of which remained unopened and in mint condition.

For this collector, Matt, one Star Wars display case just wasn't enough, so he opted for a TSB1500 Extra Wide Wall Display Cabinet with Storage and CTGL1800 Full Glass Counter Display Cabinet to give his collection optimum visibility and room to grow.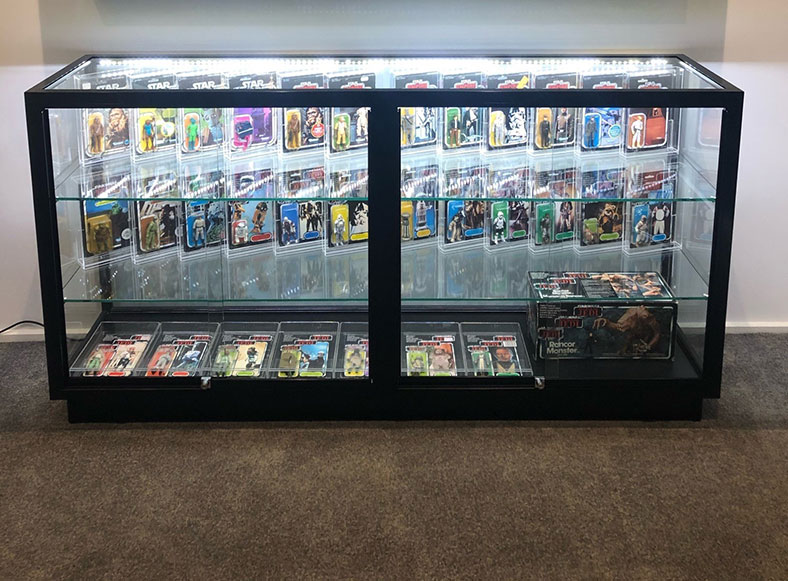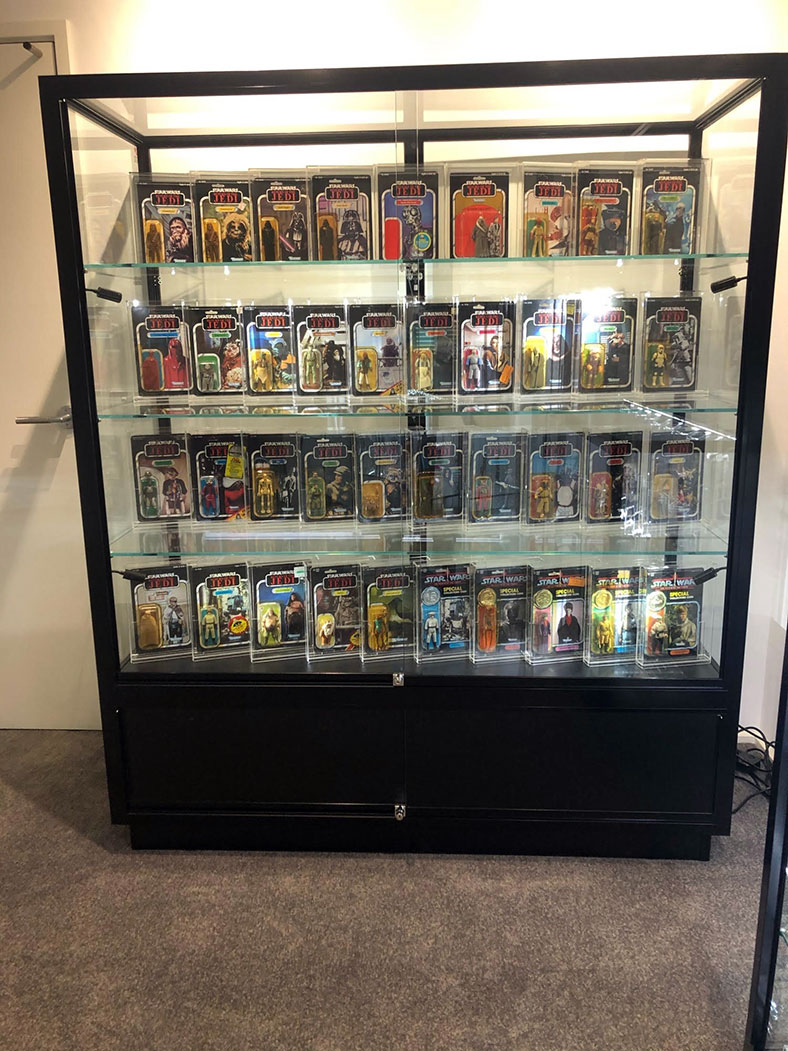 Looking for a Star Wars display cabinet that's a little more….show-stopping? Then our CT900 Star Wars Display Coffee Table is unbeatable. As our most popular Showfront Star Wars figure display case, you won't find a better way to simultaneously enjoy your coffee and admire your Star Wars collectables.
With space for any spacecraft models like your Millennium Falcon, X-wing or Imperial Star Destroyer, this Star Wars display idea combines form and function to create the ultimate feature piece in your home. Want to know the best part? It's completely customisable, so you can create a coffee table display case to suit the style of your humble abode.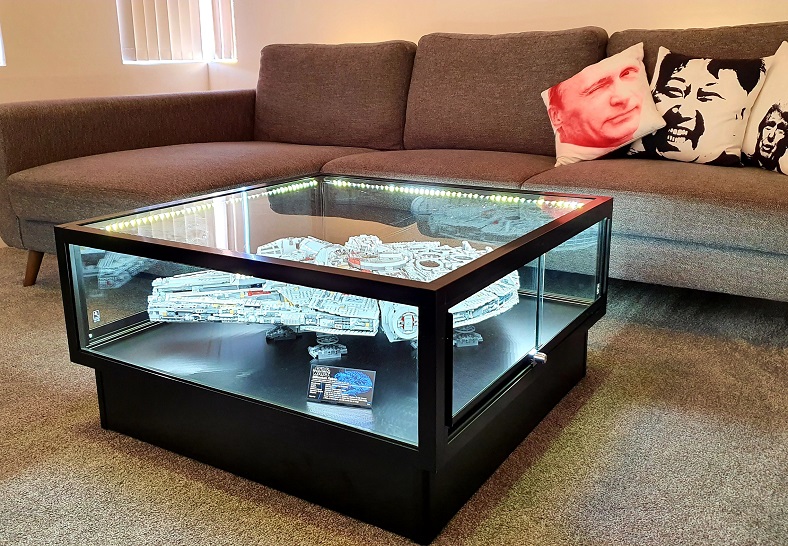 For wanting a wall-mounted solution for their Star Wars figurines, the WMC-1200 Wall Mounted Star Wars Display Cabinet is flexible and space-saving. The eco-friendly LED strip lighting illuminates your prized Star Wars action figures perfectly, while the two lockable sliding glass doors offer security and easy opening and closing.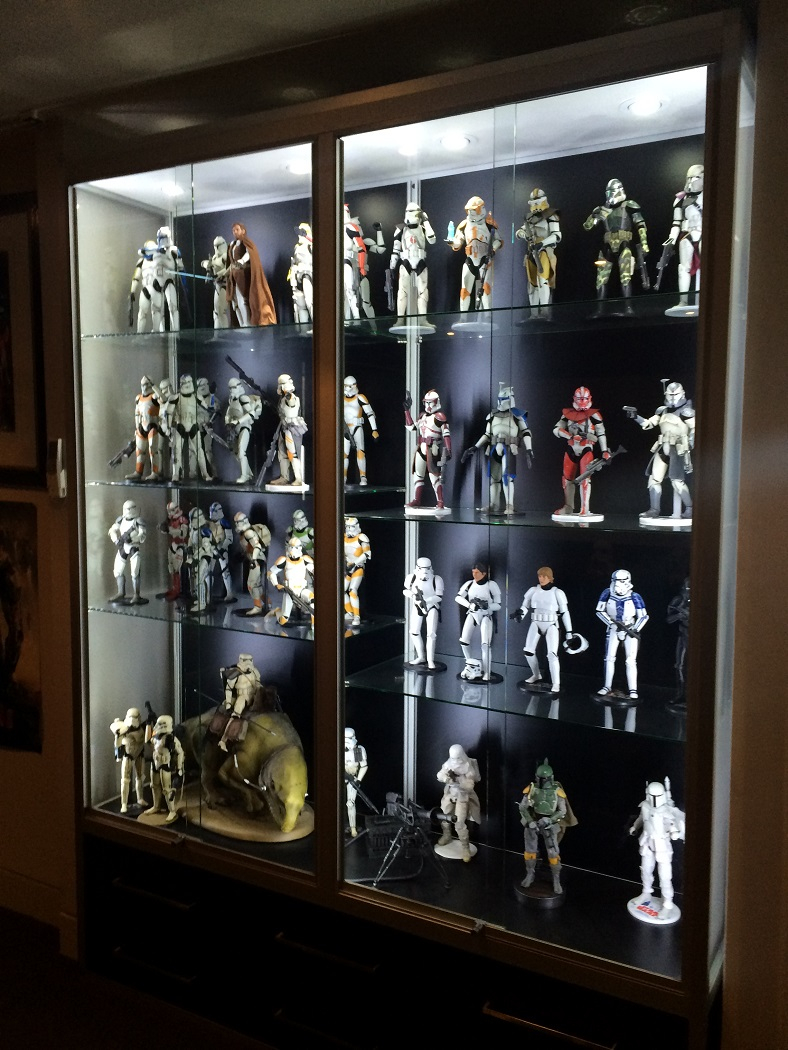 Want to add some features to your Star Wars display case? We've got you covered. Don't force your Star Wars figures to the dark side, get that lightsaber glow with our array of cool LED striplights and spotlights. Chasing some droid-level security? We supply a range of lockable options and Jedi-strength glass, too!
When it comes to choosing the right Star Wars figure display cabinet, Showfront is unbeatable. Our experts walk you through the process from start to finish, so consider our display case consultants your Chewie equivalent.
Call us today on 1300 785 694 or visit one of our showrooms in Brisbane, Melbourne or Sydney to discuss your Star Wars figurine display case needs.
Showfront – better quality, better value.
Durable, flexible, elegant and superbly crafted, Showfront offers a vast range of custom display cases for sale or hire. Compare the difference in price and quality - visit a Showfront showroom in Melbourne, Sydney or Brisbane. Buy online now or call our friendly team on 1300 99 36 36.