Display Your Treasured Car Collection With A Showfront Glass Model Car Display Case
It's perhaps one of the most treasured memories many have as a child, playing with their collection of matchbox vehicles and model cars, but for some, preserving and prolonging these precious pieces of the past is more than just a hobby.
From Rolls Royce, Jaguar and Chrysler to Ferrari, Ford and Porsche, our customers have model car collections of all kinds that provoke excitement, pride and nostalgia.
Each collection tells a very special story unique to their collectors, making it crucial for the presentation of their model cars to be front and centre of their home while being both secure and spacious.
Finding the perfect glass model car display cabinet is no easy feat, with many collectors having searched far and wide before discovering Showfront's range of glass model car display cabinets.
Here at Showfront, we understand that the right glass display case isn't just a cabinet, but a way to showcase your treasured memories, favourite pieces and precious collections, which is why we make sure your glass model car display cabinet is as flawless in form as it is in function.
Our bespoke glass model car display cabinets offer customers the option to customise a glass model car display cabinet manufactured to their desired specifications or choose from a vast array of ready-to-install options, all of which are delivered fully assembled.
Unlike stock-standard, imported cabinets available at mediocre retailers, Showfront's glass model car display cabinets are manufactured right here in Australia and to the needs of each collector.
You can choose from a whole host of custom options such as size, shape and frame colour and even add LED's, extra storage and locks for optimum visibility and security.
If you're searching for some inspiration for your own glass model car display cabinet, take a look at some of our favourite glass display cases that have been created for dedicated collector customers.
We love classic cars, which is why our customer, Wesley, is always exciting to work with. Wesley sought a display solution that was secure, but not too big for his beautifully curated collection of matchbox model cars and miniatures, many of which remained in their original packaging and were extremely precious. After consulting with our expert team, Wesley decided on a simple but elegant ETGL 1000 glass model car display cabinet from our Essential range with LED spotlights for the final touch.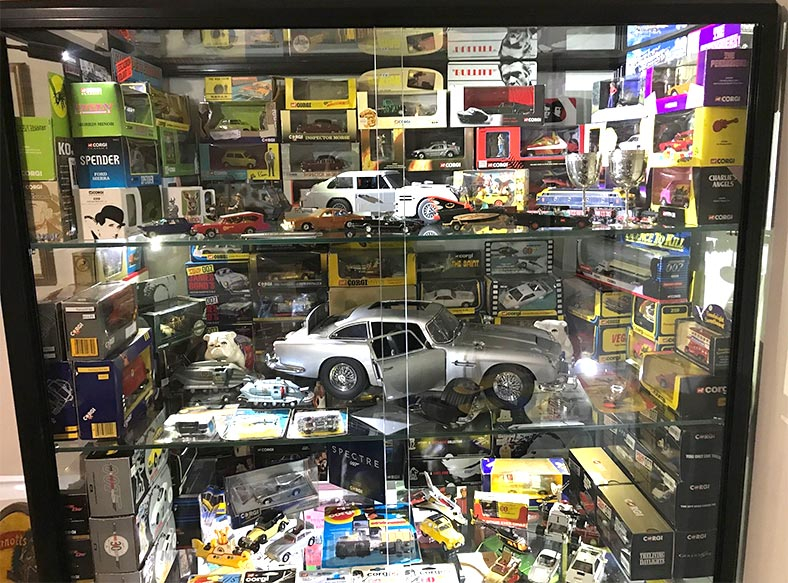 Robert, one of our most meticulous collectors, required a glass model car display cabinet with additional storage to display his curated collection. The Showfront TSF 900 was a perfect choice, with LED's at the top to really illuminate his pieces.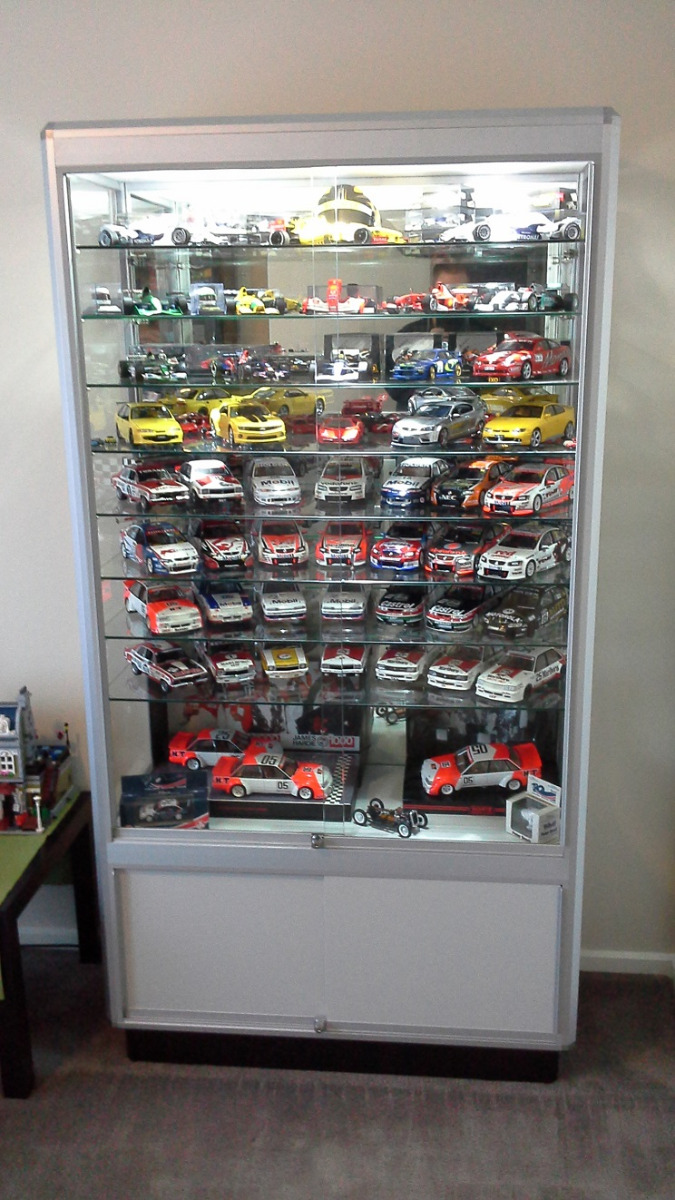 This collection is the envy of all Ford fans and required a much bigger glass display cabinet for model cars than your average customer. Fortunately, here at Showfront, there is no glass model car display cabinet too big and created the perfect solution with a TPFL 1200 and wide custom model car display cabinet. These glass display cabinets for model cars ended up having enough extra room for a few of his favourite Star Wars collectables!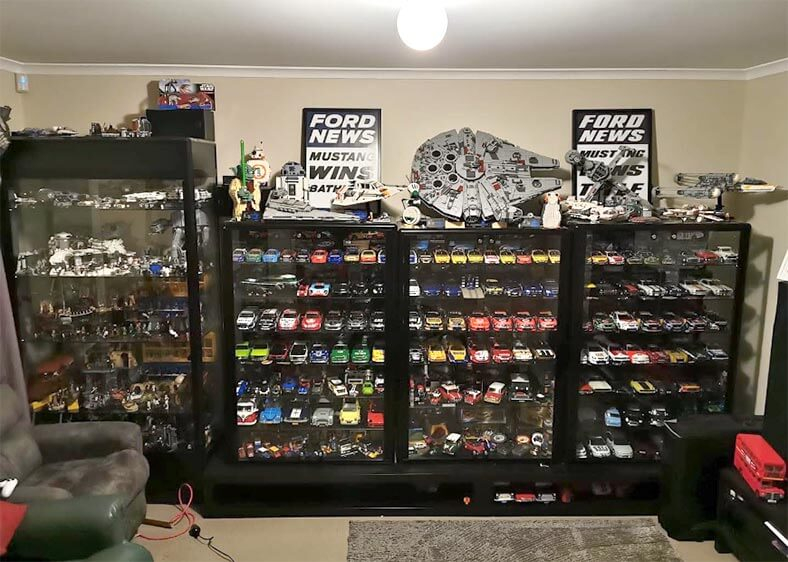 Perhaps one of our favourite glass model car display cabinets to date is this pair of silver TGL 1000 glass display cabinets which were manufactured for model car collector, Matt. These glass display cabinets for model cars were lined with LED strips inside on the four corners for a luxury finish and lockable sliding glass doors for extra security.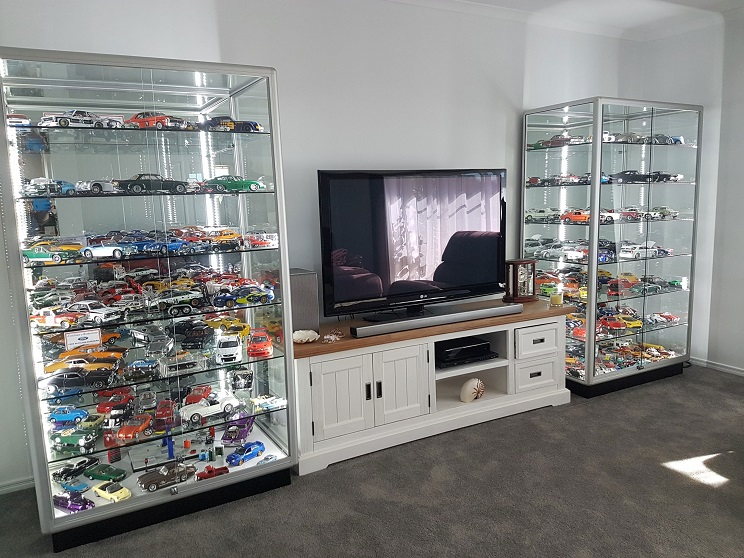 We can create unique glass model car display cabinets that fit perfectly into your home, just like this custom corner model car displaycabinet. This space-efficient, eye-catching glass display cabinet for model cars was a bespoke creation made to house this collector's beloved car collection. The silver frame and warm LED spotlights created a homey feel with a professional finish for a glass model car display cabinet that fits perfectly into unused space.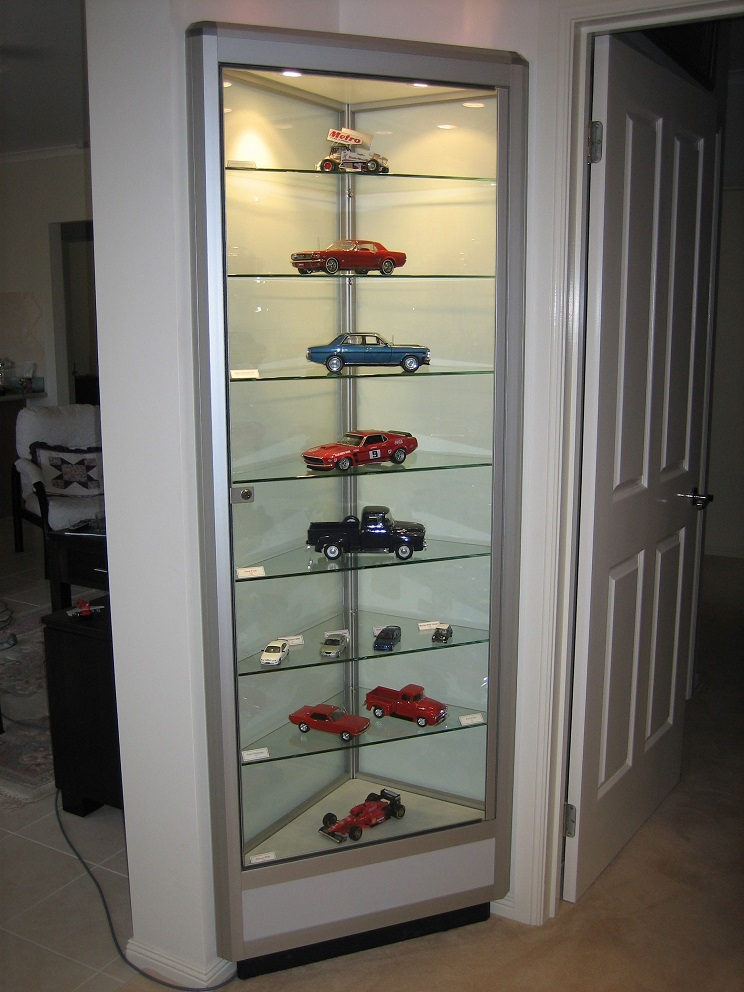 Still not sure what you're looking for? Our expert glass display cabinet consultants can help you pick or create the ideal glass model car display case to keep your treasured collection safe. Whether you need a display cabinet for diecast model cars, a scale model display case or a classic model cars display case, we have a model car cabinet for you.
Thanks to our price match guarantee, excellent service and Australian-made cabinetry, you can feel confident that you're getting the best deal and premium quality for your glass model car display cabinet.
If you'd like to discuss options for your glass model car display cabinet, call us today on 1300 785 694 or visit one of our showrooms in Brisbane, Melbourne or Sydney.
Showfront – better quality, better value.
Durable, flexible, elegant and superbly crafted, Showfront offers a vast range of custom display cases for sale or hire. Compare the difference in price and quality - visit a Showfront showroom in Melbourne, Sydney or Brisbane. Buy online now or call our friendly team on 1300 99 36 36.