Have you ever had a magnificent idea or come up with an amazing creation but haven't been able to bring it to life?
Finding the perfect glass display cabinet is no easy feat, with many collectors having searched far and wide, but there is a solution...your own!
Here at Showfront, we specialise in turning dreams into reality for our collector customers by manufacturing bespoke custom display cabinets for their unique collections.
We understand that your custom glass display cabinet isn't just a cabinet, but a way to showcase your precious pieces, which is why we make sure your custom display cabinet is as flawless in form as it is in function.
Unlike stock-standard, imported cabinets available at mediocre retailers, Showfront is an Australian custom glass display manufacturer that caters to the individual needs of each collector.
For over two decades we've been creating happy customers with our high-quality, Australian-made custom glass display cabinets and display solutions designed to their specifications.
Behind Showfront is a team of talented experts dedicated to turning your cabinet concept into reality. We view our custom display cabinets as a true labor of love and seek to achieve the best results for our clients which is why our consultants work with them closely to really understand their display cabinet needs.
But our custom display cabinets don't make themselves, in fact, it's quite an intricate process to get it off the paper and into someone's home.
One of our in-house cabinetry specialists, Justin, walks us through the process of three newly commissioned custom cabinets for our client, Karsin
The first step of the process involves assessing the client's needs and obtaining the appropriate measurement. A consultant will find out about the collection which the cabinet will house along with the space it will be in and the desired style. Once this has been completed, Justin gets to work putting pen to paper to draft up an initial design concept for the custom display cabinet that includes the necessary measurements.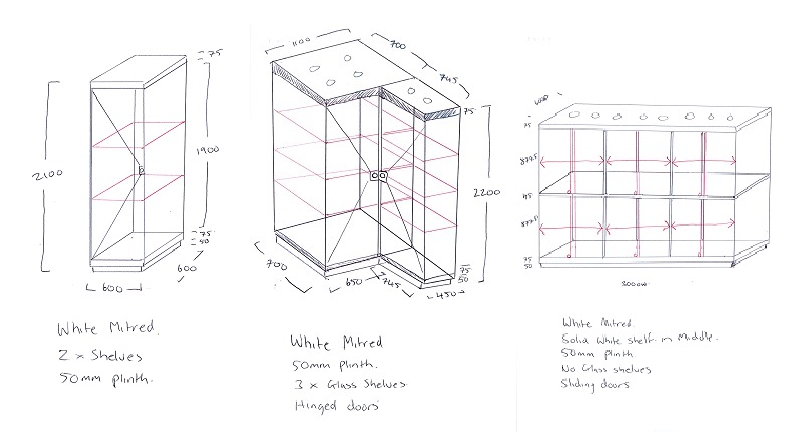 This is then converted into a digital 3D design in AutoCad Software to add depth and realism and get a full 360o view of the custom display cabinet. This also offers an opportunity for the client to see their chosen colours, size, shape and features prior to the display cabinet being built.


Next comes the production stage. Our manufacturing team at Showfront receive the AutoCad design from Justin and get to work constructing the custom display case. This process requires considerable attention to detail in order to get every intricate aspect right. This includes installing the cool-touch LED spotlights and locks to the glass sliding doors.
The final result of the three custom cabinets was stunning and received rave reviews from the client, much to our delight. These custom display projects are team effort and require no shortage of dedication, skill and imagination; we're so proud to have talent like Justin as part of the Showfront crew.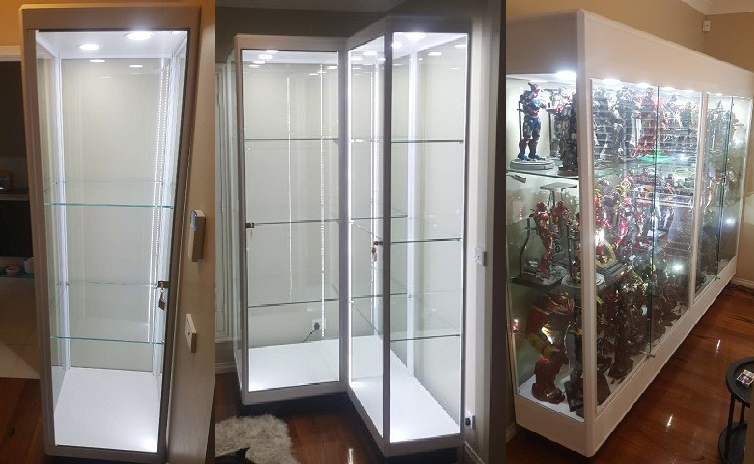 Want to take your dream display cabinet from concept to creation? Our expert custom display case consultants can help you design the ideal custom glass display cabinet to keep your special collection safe.
When it comes to creating your perfect custom display cabinet, Showfront should be top of mind. We offer a price-match guarantee so you can feel confident you're getting the best value.
But that's not all, our consultants work with you one-on-one throughout the customisation process to ensure your custom glass display cabinet is everything you need and desire. Thanks to our excellent service and Australian-made cabinetry, you're guaranteed to the best experience and premium quality.
No matter the collection, whether it's for superhero figurines, band memorabilia, model cars, lego crystals, a custom display case from Showfront is always the best choice.
If you'd like to discuss options for your custom display cabinet, call us today on 1300 785 694 or visit one of our showrooms in Brisbane, Melbourne or Sydney.
Durable, flexible, elegant and superbly crafted, Showfront offers a vast range of custom display cases for sale or hire. Compare the difference in price and quality - visit a Showfront showroom in Melbourne, Sydney or Brisbane. Buy online now or call our friendly team on 1300 99 36 36.