We all have that one car we wish we could afford, but for some, one just isn't enough. While the real deal might still be far out of budget for most, classic model car collectors make up for it with a vast array of detailed miniature versions of their favourite motor vehicles.
From classic Rolls Royce's, Mustangs and Duesenberg's to swanky Aston Martin's and Lamborghini's, there are more cars owned by our loyal collector customers than you could ever find in a real car yard or millionaire's garage.
Our collectors often come to us with their own classic model car display case ideas, and thanks to our customisable range, we can create a classic model car display case perfect for any collection.
Wondering how to keep your classic model car collection in pristine condition? Or want some ideas for a classic model car display case of your own? Then look no further than Showfront's display cases for classic cars, Australia!
Here at Showfront, we help model car collectors from around the country put their prized pieces on show with high quality, Melbourne-manufactured model car display cases.
Whether you're a hobbyist collector, closet collector or serious collector, our completely customisable range of display cases for classic cars has you covered.
Select your size, pick a frame colour and add some LED's to steer the spotlights onto your 4-wheeled wonders.
Seeking some inspiration? We have many amazing Showfront customers who collect classic model cars, each with their own unique set-up, that you can check out some fantastic ideas for classic model car display case ideas.
Darryl from Brisbane put his passion for the speedway on show with his model racing car collection. Featuring over 100 of the high-octane miniature vehicles, Darryl wanted to put his precious cars on a deserving podium, so sought out our Showfront team for the job of creating a classic model car display case.
We got to constructing an extra-large customised TGL 2000 Wall Display Cabinet with a sleek black frame and lockable sliding glass doors for combined security and ease of access. We worked with Dylan to ensure his collection had room to grow in the classic model car display cabinet while allowing each piece to be seen.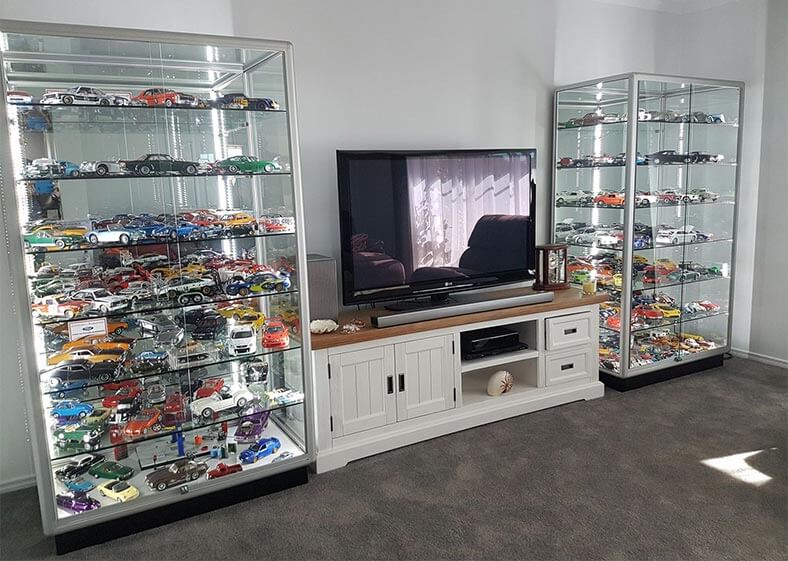 Another collector, Robert, was quite meticulous with how he wanted his classic model cars to be placed and was seeking some added storage space when shopping for a classic model car display case. The Showfront TSF 900 was a perfect choice, with added LED's at the top adding some extra 'wow.'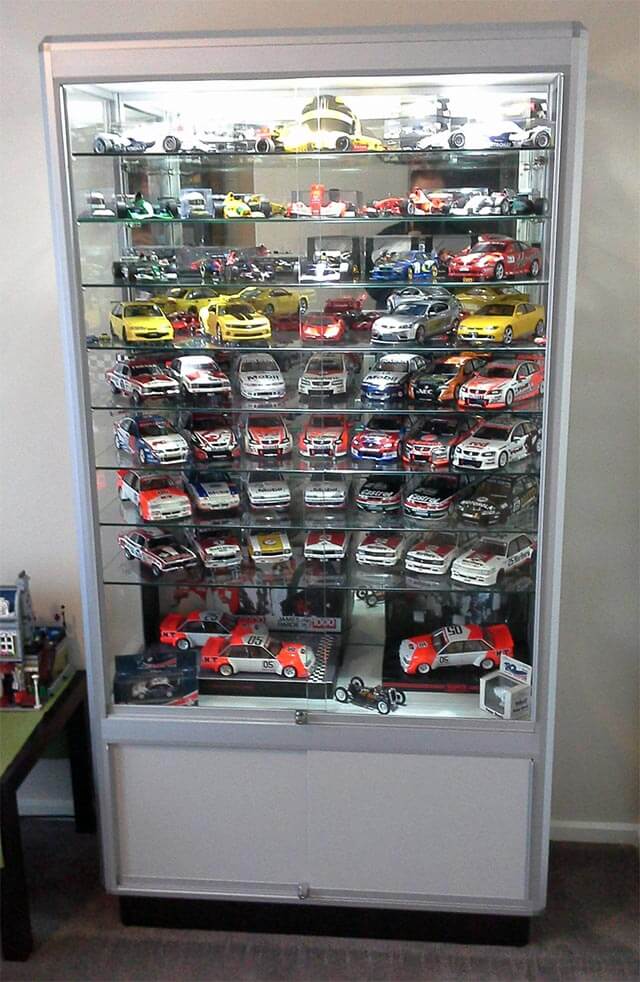 This major Ford fanatic opted for an even bigger classic model car display cabinet to house his cars, deciding on a Showfront TPFL 1200 and wide custom classic model car display case, both with slick black framing.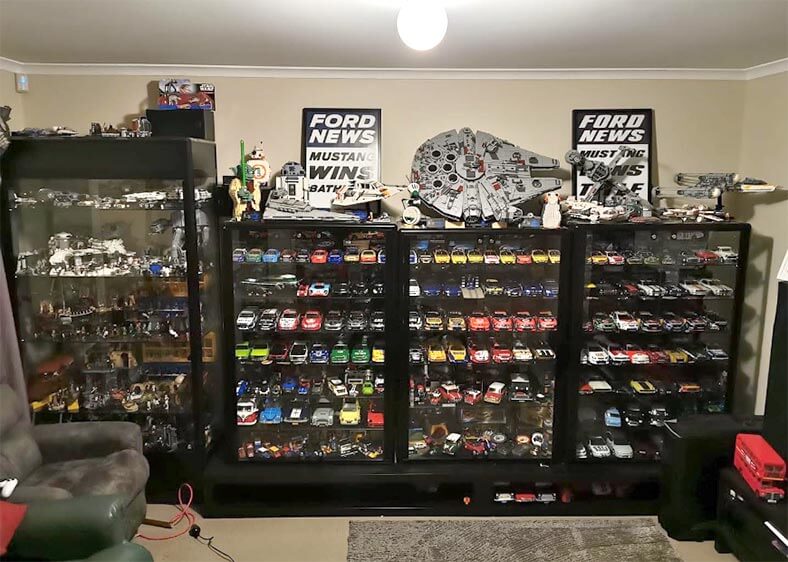 Matt's collection is the centre of attention with his two silver TGL 1000 model car display cases from Showfront bordering his entertainment unit. They each are lined with LED's on the inner corners of the cabinet, highlighting the dazzling shapes and colours of his model cars.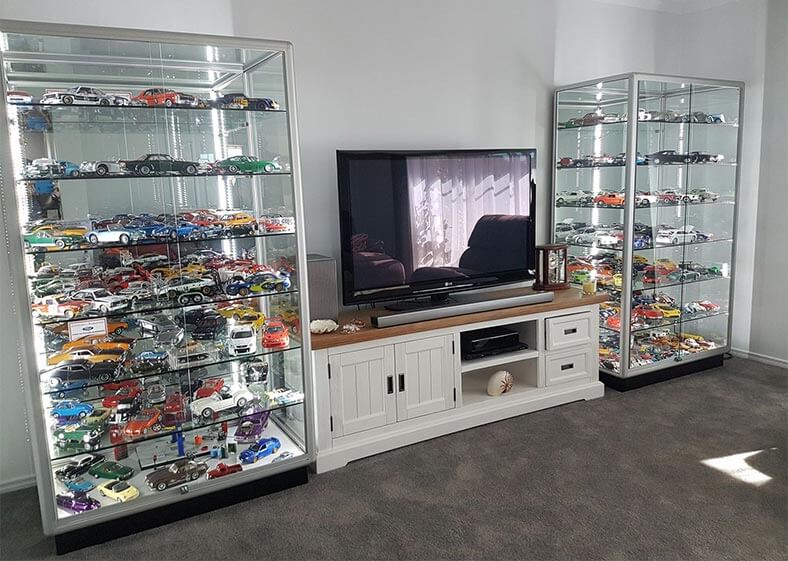 This snap of Wesley's collection shows the mixed array of matchbox model cars and miniature cars he owns, many still in their original boxes. The Showfront ETGL 1000 from our Essential range was the ideal classic model car display cabinet for his collection and the LED spotlights were the perfect final touch to illuminate the cars.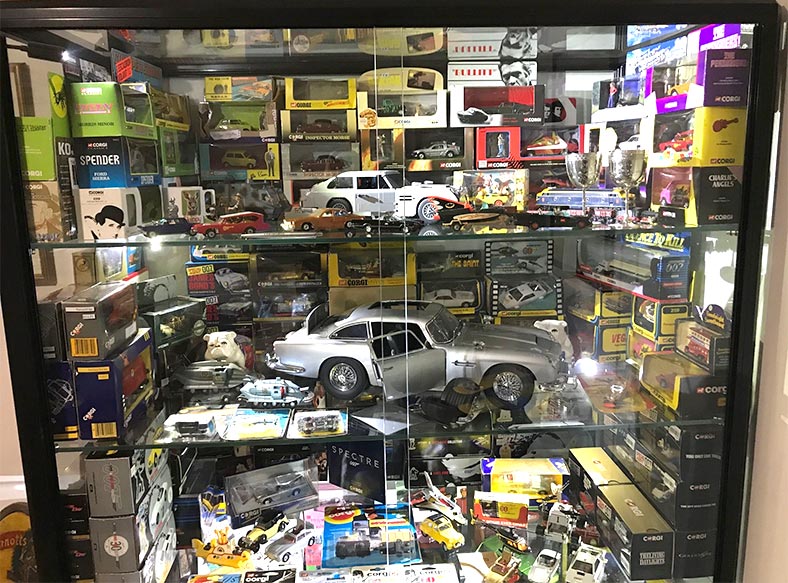 When it comes to creating a customised classic model car display cabinet from Showfront, the sky's the limit. We offer a price match guarantee and deliver all display cases fully assembled, so you know you're getting the best deal and premium, Australian-made quality for your model car display cabinet. Whatever your classic model car display case ideas, Showfront should be top of mind.
Call us today on 1300 785 694 or visit one of our showrooms in Brisbane, Melbourne or Sydney to discuss your classic model car display case needs.
Showfront – better quality, better value.
Compare the difference in price and quality for yourself - buy your collectible display cases online, visit a Showfront showroom in Melbourne, Sydney or Brisbane today or call our expert display consultants on 1300 99 36 36.