From the incredible mind of JRR Tolkien came the epic tale of two hobbits and their mission to destroy Sauron's infamous one ring.
From an acclaimed trilogy of novels to three award-winning films, Lord of the Rings has cemented itself in the heart of fantasy fans around the world and, subsequently, a monumental amount of figurines, merchandise and Lord of the Rings memorabilia has followed.
You've no doubt spent considerable time, money and effort building your Lord of the Rings collection, so it seems only fitting that you showcase your pieces in a high-quality Lord of the Rings display cabinet.
But don't worry, you won't have to trek all the way to Mordor and back to find the perfect Lord of the Rings display case, Showfront has a range of ready-to-install and custom cabinets to suit.
While our Lord of the Rings display cabinets aren't forged deep in the mountains of Middle Earth by dwarves, they are manufactured by our expert craftsman right here in Melbourne.
With an incredible range of sizes, shapes and finishes, it's easy to see why we're the display case wizards.
Perhaps our favourite Lord of the Rings display case to date is this spectacular Gandalf action figure displayed in a custom CBDL rotating pedestal cube display case.

Complete with magical silver spotlights in the top and bottom corners of the cabinet, the case provides stunning contrasts of light and shadow on the Gandalf figurine that would rival that of the Evenstar.
Our LED's are also cool to the touch and eco-friendly, so you can feel confident your Lord of the Rings collection will be properly preserved and safe from heat damage.
But that's not the best part. With the five crystal-clear, tough glass panels and the addition of a rotating platform, this Lord of the Rings display case ensures viewers have a better view than the Great Eye himself.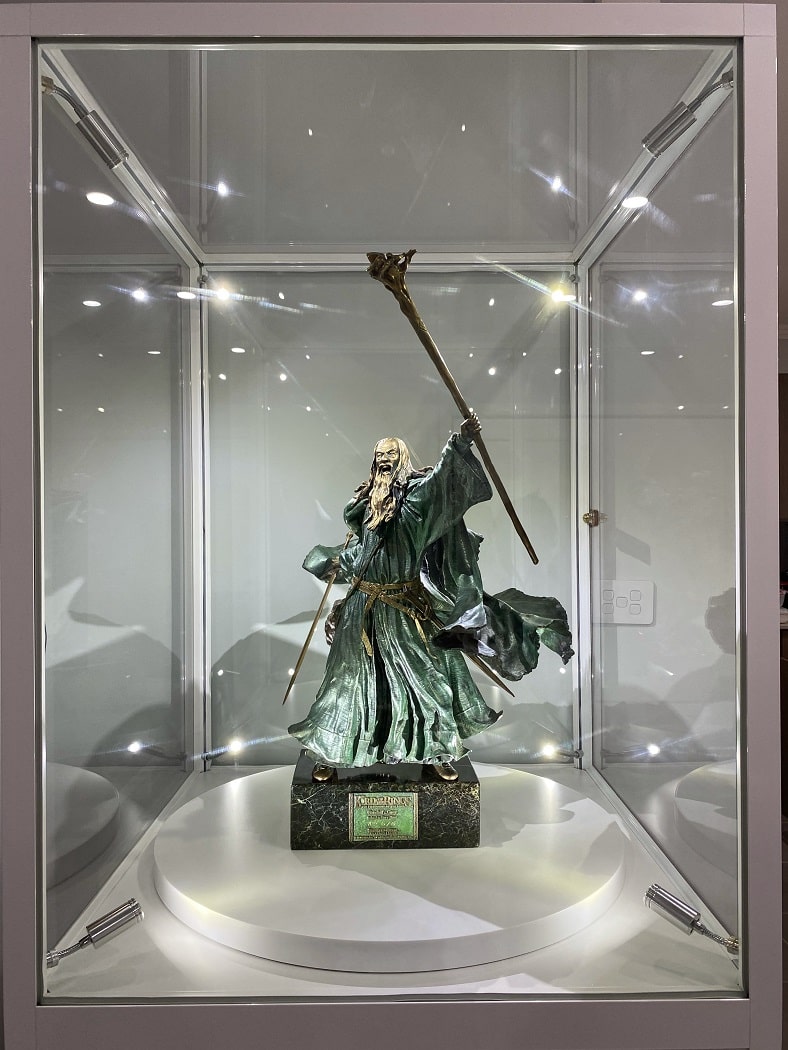 If your collection requires more space than a single pedestal case, then why not opt for something a little bigger? Our TGL 600 tower display case is the perfect fit for those more narrow spaces, whereas the TPFL 1200 upright Lord of the Rings display cabinet is great for wider areas.
Want something more unique? We can create completely custom Lord of the Rings display cases to suit your special collection!

When it comes to choosing the right display cabinet for your Lord of the Rings memorabilia, Showfront is unbeatable. With a price match guarantee, top quality manufacturing and industry-leading customer service, we're the true king of display cabinets.
Need assistance picking the perfect cabinet? Our fellowship of specialist consultants can help you pick the perfect Lord of the Rings display case for your collection.
For those other amazing fantasy collections, explore our Lego Harry Potter display cases or check out our Batman and Disney display cabinets.
Call Showfront today on 1300 785 694 to book your visit to one of our showrooms in Brisbane, Melbourne or Sydney to discuss your Lord of the Rings display case needs.
Showfront – better quality, better value.