Avengers assemble! It's time to unite your Marvel heroes and villains together with a Marvel action figure display case from Showfront.
Finding the perfect action figure display cabinet for your favourite superheroes can be a challenge, with many searching far and wide, but there is a solution... a Marvel action figure display case from Showfront.
Don't let your Marvel figurines collect dust on a shelf or stay stored in a box, give them the treatment they deserve with a fully customisable marvel action figure display cabinet for superhero collectables.
Thanks to Showfront, you can create the ultimate Avengers figurine display with a custom cabinet manufactured to your specifications, or you can select from a huge range of ready-to-install options including upright cabinets, wall-mounted display cabinets and tower display cabinets.
From classic comic book pieces to movie memorabilia and merchandise from the Marvel cinematic universe, a Showfront Marvel action figure display case will keep put your powerful collectables on display while and keep them protected while giving you room to expand your collection.
Just like a superhero costume, a collectable display case should fit your collection perfectly and reflect your passion. Don't waste precious dollars on a sub-par marvel superhero cabinet from a mediocre retailer, opt for a Marvel figurine display case as unique as your collection.
Choose the size, colour and shape of your Avengers figurine display cabinet and add additional storage, locks or eco-friendly LED's to put the spotlight on your superhero collectables.
Chasing some inspiration for your Marvel action figurine display case? Take a look at some of our favourite Marvel action figure display cabinet projects below.
This white-framed TPFL 2000 Upright Glass Display Cabinet with LED Downlights was the perfect display solution for this collector's treasured Marvel action figures. The sliding glass doors are manufactured with tough glass and included security locks at the bottom to keep prying hands and pets away.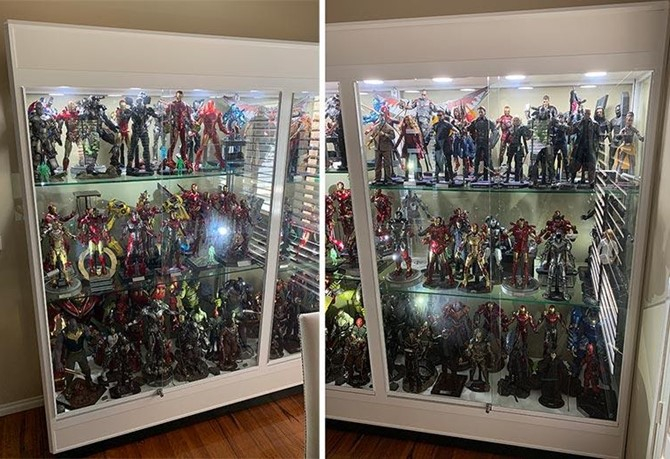 We would never want your precious superhero collectables to be damaged by harsh lights and heat, which is why we only install cool, long-lasting and eco-friendly LED's in our display cabinets. Consider putting your Avengers comics on show with an upright TGL 1000 Glass Avengers Figurine Display Cabinet fitted with LED spotlights to highlight your Marvel comic books.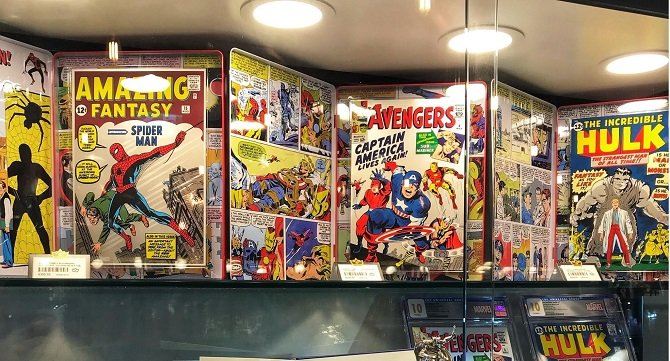 We can't forget Deadpool and our fellow mutants! Keep your team of X-men and other Marvel action figures safe and sound in a Showfront Tower Display Case for Avengers figurines. Customise your own or pick from our huge range of sizes and styles that are delivered fully assembled so you can get straight into creating your Marvel figurine display case. Got some life-size Marvel figures or precious costume memorabilia? Check out the Mannequin Tower Display Cabinet with LED Panels or get some inspiration for a scale model display case!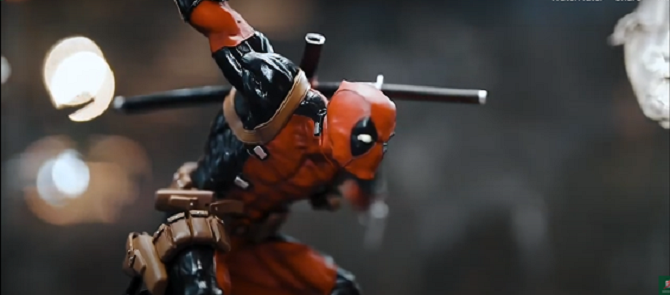 As a leader in our industry for over a decade, you can trust that all of our Marvel action figure display cases are made in Australia by dedicated craftsmen with premium-quality materials. We know that your superhero collectables are priceless, so we never cut corners when creating custom Marvel display cabinets.
We pride ourselves on offering competitive pricing and top-tier service, so our price match guarantee means we'll beat any written quote with like for like specs by 10%!
Still not sure what you're looking for? Consult our marvellous team of experts about your collection and we'll come to the rescue by helping you create a super special Marvel action figure display case.
Whether your characters possess intergalactic force, the wrath of the gods, mutant powers or superhuman abilities, you can unleash their powers with a Marvel action figure display case from Showfront.
Showfront – better quality, better value.
Call us today on 1300 785 694 or visit one of our showrooms in Brisbane, Melbourne or Sydney to discuss your Marvel action figure display case needs.