For over a century, the world of Walt Disney has brought to life some of our most beloved storybook and movie characters.
As one of the biggest brands on the planet, it probably comes as no surprise that there are also many dedicated Disney collectors. Turning the Disney fantasy into reality is no small feat and creating a curated Disney collection takes a considerable investment of time, money and research.
For many collectors, finding the perfect Disney display cabinet to house their Disney collection can be just as big of a challenge as collecting them in the first place, but it doesn't have to be.
Thanks to Showfront, the hunt for the ideal Disney display cabinet is over. Don't waste precious dollars on stock-standard display cabinets, select one of our many ready-made, high-quality Disney display cases or opt for a completely custom Disney display case manufactured to your specifications; the choice is yours.
With a Disney display cabinet from Showfront, your Disney figurines won't have to collect dust on a shelf or stay stored in a box any longer and you'll be able to have plenty of room to expand your Disney collection.
Whether you collect Disney figurines, Lego, merchandise, books or movies, a Showfront Disney display case will keep your precious fantasy collectables safe and sound.
Let us make your Disney display case dreams come true with our customisable display cabinets. You can choose any size, colour and shape your heart desires and add additional storage, locks for extra security or eco-friendly LED's to bring the Disney magic to life.
Seeking some inspiration for your Disney display cabinet? Take a look at some of our favourite Disney classics collection displays below.
Disney classics collections are always special, but this particular collection is one of our favourites. Austin from Victoria was the proud owner of a Swarovski Crystal set of the original Disney Snow White and the Seven Dwarves.
These incredibly valuable and fragile pieces required a Disney display cabinet that would offer optimum visibility and maximum security, so Austin opted for a customised white CBDL pedestal cabinet. The Disney display case included a lockable glass hinged door for ease of access without compromising on security and beautiful glass top and sides for a full view of the Disney classics collection.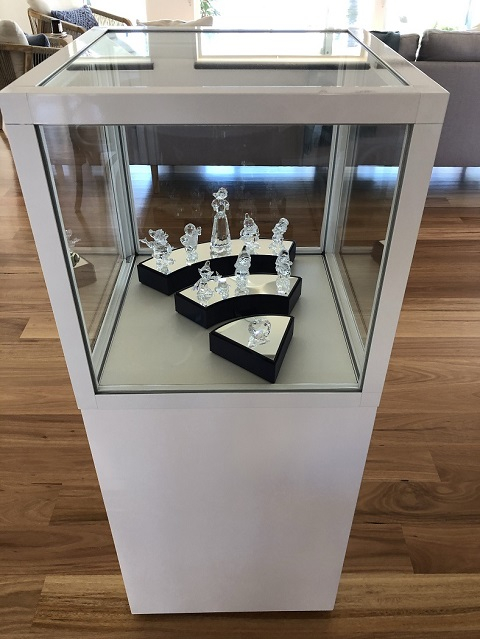 The next Disney display case was submitted by one of our customers, Jason for our 2020 Showfront Collector's photo competition. The Disney display case consisted of a series of extra-large TGL 2000 Wall Display Cabinets that spanned the entire length of the wall within their Cinema room and housed not only their prized Disney pieces, but a host of other disney-owned franchise collectibles such as Star Wars and Disney Lego.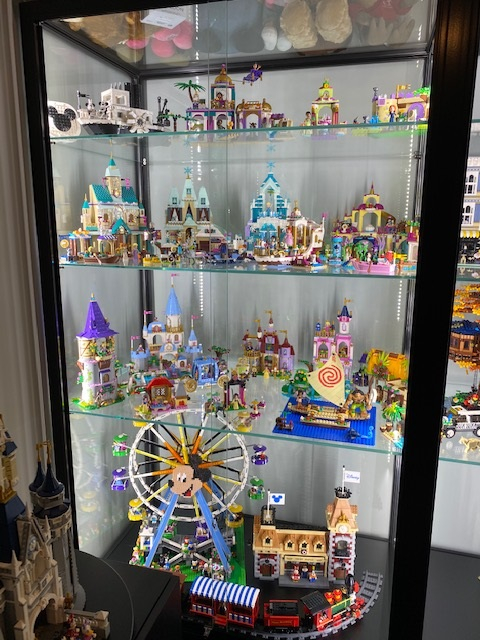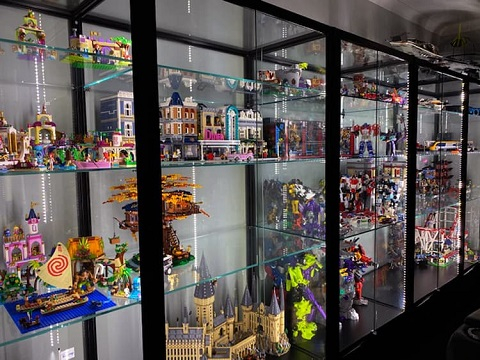 Perhaps one of our most dedicated Disney collector's is the owner of this custom Showfront Disney display case packed full of Mickey Mouse ears, Minnie Mouse ears and Disney plush toys. The owner of this fun collection of headpieces sought a tall and narrow design that was able to lock. Our team happily obliged and delivered this Disney display cabinet fully assembled.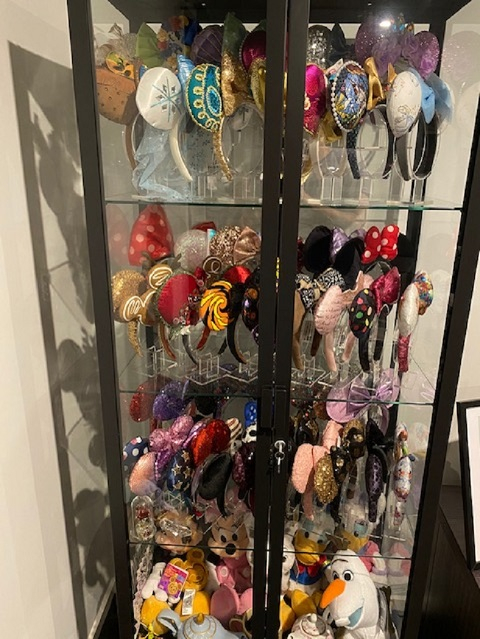 When it comes to choosing the right Disney display cabinet, Showfront is unbeatable. Our expert Disney display case consultants can help you pick the perfect Disney display cabinet for your collection.
Call us today on 1300 785 694 or visit one of our showrooms in Brisbane, Melbourne or Sydney to discuss your Disney display cabinet needs.
Showfront – better quality, better value.
Durable, flexible, elegant and superbly crafted, Showfront offers a vast range of custom display cases for sale or hire. Compare the difference in price and quality - visit a Showfront showroom in Melbourne, Sydney or Brisbane. Buy online now or call our friendly team on 1300 99 36 36.