If you're a collector of precious rocks and minerals, then you know how important it is to have the right display case for your collection. It should not only show off your finds, but it should also keep them safe. In this buyer's guide, we'll tell you exactly what you should be looking for in a display case for rocks and minerals. With over 20 years of experience under our belts, we've come to know what works best with rock & mineral collections.
Build Quality
Never overlook the quality of the build of your display case. Remember, it's more than just about aesthetic value – your unit should be built to stand the test of time, maximising your investment and ensuring your valuables are kept in good condition. Pay particular attention to the quality of the shelving installations. Consider whether you want a fixed or adjustable option. If you go for the latter, make sure the fixtures are solid and secure. At Showfront, we never make cuts on the quality of our display cases. We understand that valuable collections deserve quality and durable housing units.
Lighting
For the lighting of your display case, you're looking for two things in particular. First, it's about keeping your collection safe. Experience has shown us that cool and energy-saving LED lighting works best – that's exactly what we use. This means that you can keep your rocks and minerals away from heat damage, while still being able to have them on display.
You also want to make sure that lighting placement and quality is such that your collection can be shown to visitors – ideally, see whether your unit can be customised with your specific items in mind. Placement of lighting is an important consideration in this. In particular, a display case for crystals must have several lighting angles to maximise the aesthetic value of your collection.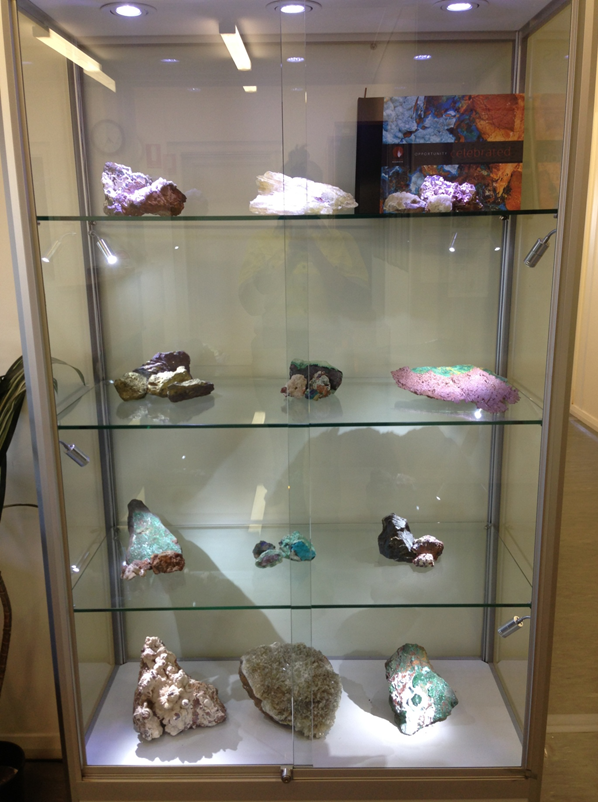 Our LED lighting in display cabinets is designed both to give maximum viewing pleasure, while at the same time keeping costs low. It makes our units perfect mineral collection display cabinets.
Price
When it comes to choosing your mineral display case, you're looking for value for money. This doesn't mean the cheapest option you can find – units that are on the lower end of the pricing scale will usually shave off quality and durability.
Our display cabinet for minerals combines premium quality that's built to last with unbeatable prices. We make every effort to pass on savings to our clients, while always guaranteeing professional quality. We use our two decades of experience to make sure you get value for your hard-earned investment.
Our award-winning TSF 1000 is indicative of our mission to provide customers with units that won't break the bank, but deliver quality that can rival any other display cabinet on the market. The TSF 1000 combines functional design with aesthetic values that will show off your collection – it's no surprise it's one of our customer favourites!
Why Choose Showfront?
While we're not the type to blow our own horn, we're nevertheless confident that we can provide the rock display case that will satisfy your needs. We protect our reputation of style, elegance, flexibility and durability with a passion – each and every one of our customers get the dedicated service they deserve alongside a product that delivers. Whether you run a large art gallery or are a private collector, we can cater to your requirements.
Showfront manufactures a wide range of custom display cabinets suitable for showcasing gemstones, minerals, crystals, rocks, fossils, geological specimens and other collectibles.
From Mushroom Display Cabinets to Tower units – we will work with you to find the shape and size that suits your collection and budget.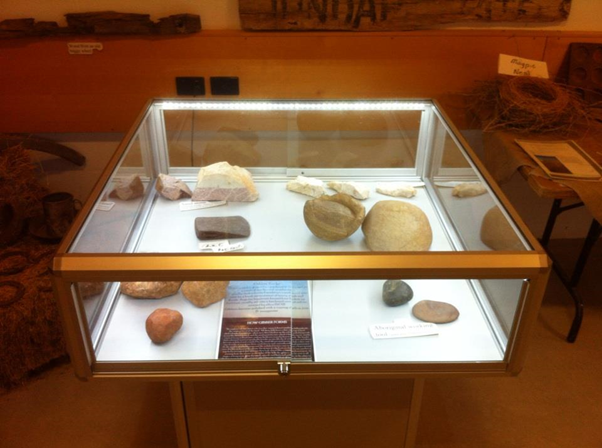 Want to know what others think? Check out our testimonials section to see what customers have to say about our mineral display cabinets.
Give us a no obligation call
Interested in having your very own top-notch mineral specimen display case? Our units are built with quality and durability in mind – we provide customized display solutions for a range of museums and galleries around the country. Give us a call and one of our experienced display consultants will help you find a display case that suits your needs. We're always happy to help, no matter your questions – there's no obligation and no pushy sales pitch.
Showfront – better quality, better value.
Durable, flexible, elegant and superbly crafted, Showfront offers a vast range of custom display cases for sale or hire. Compare the difference in price and quality - visit a Showfront showroom in Melbourne, Sydney or Brisbane. Buy online now or call our friendly team on 1300 99 36 36.