It's not often we get a genuine home-grown TV celebrity visiting us here at Showfront, so we were absolutely delighted when Channel 31's Rusty Purchase contacted us to say that he wanted to use a Showfront Display Cabinet for his very own 'Man Cave' collection as a backdrop in the Bumper 2 Bumper show and ask would we like to do a feature on collectible display cabinets?
Fans of the Bumper 2 Bumper TV show will be familiar with Rusty's good humoured, easy-going style, known for highly entertaining segments like 'Car-Tell' where motor enthusiasts are interviewed to talk about their beloved pre-1980's classic cars and the hilarious 'Rusty's Glove Box', where he asks folks to open their glove box to show and tell all.
Rusty's passion for classic cars is clearly infectious and Bumper 2 Bumper now shows in Victoria, South Australia, Queensland and New Zealand. Rusty also revealed today that Bumper 2 Bumper is also soon to start showing in South Africa!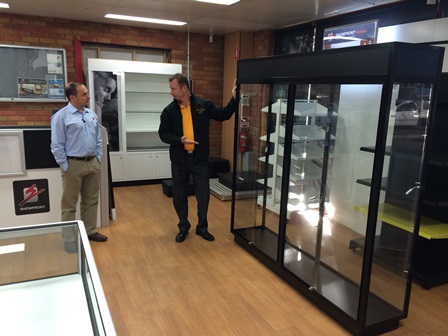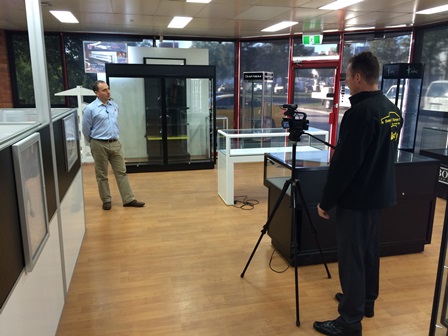 Today the spotlight was very firmly on Showfront's display cabinets and our general manager, Sam Makdissi, who talked Rusty through the Showfront range.
As every collector knows, a huge amount of time, money and effort goes into presenting and maintaining any collection, and it's important to understand the plethora of different options available to display one's pride and joy.
Height, size, shape, colour, shelving, storage and mobility are all important factors when it comes to making a decision and that's where Showfront is here to help. With over 20 years experience in the collectibles display cabinet market, we've had the privilege of manufacturing display cabinets for some of the most amazing private collections in Australia.
One of the many great tips that Sam pointed out to Rusty today, is the use of LED lighting. Cooler, more economical and more eco-friendly than traditional halogen light globes, LED lighting comes as standard for all our collectibles cabinets because they won't damage your display items. In the same way that excessive sun exposure damages the paint work on your car, so too will heat from halogens and they are best avoided.
"My thanks to Showfront for a beautiful-looking cabinet to display my cars." - Rusty Purchase
Bumper 2 Bumper airs on Tuesday night at 9.30pm and repeats 6am on Friday morning and 4pm Saturday afternoons and Rusty tells us the segment with our man, Sam, will be showing some time in July or August.
We're fans of the show and we'll certainly be watching! Meanwhile, a big thanks to Rusty for choosing Showfront, we wish him every continued success for the future with Bumper 2 Bumper.
Better quality, better value - choose Showfront.
Durable, flexible, elegant and superbly crafted, Showfront offers a vast range of custom display cases for sale or hire. Compare the difference in price and quality - visit a Showfront showroom in Melbourne, Sydney or Brisbane. Buy online now or call our friendly team on 1300 99 36 36.