So you're a lover of all things Squishmallow? If you collect these popular plushies, then you're probably very familiar with the difficulty of storing and displaying them.
Squishmallows have become one of the most popular and beloved collectibles in recent years. These soft, huggable plush toys come in a variety of sizes and designs, making them a favourite among kids and adults alike. If you're looking for the perfect Squishmallow display case, Showfront has a wide range of options to suit your needs.
One of the benefits of our Squishmallow display cabinets is that they come in various sizes and shapes, making it easy to find the perfect fit for your collection and your home. Whether you have a collection of mini Squishmallows or jumbo Squishmallows, we have a Squishmallow display case to accommodate them.
The key things to consider when choosing a Squishmallow display case are the size of your collection, the available space in your home and your desired outcome. Need some inspiration? We've put together our top Squishmallow cabinets.
Super Sized for Super Plushies
The TPFL series includes some of our largest and most popular cabinets. Our TPFL 1200, TPFL 2000 and TPFL 2400 are perfect for 16-24 inch Squishmallows or those extra large collections. With four adjustable shelves, you can customise the cabinet to fit your Squishmallows perfectly; place your large ones down the bottom and your mini Squishmallows up the top. Our TPFL range also includes lockable sliding doors, LED lighting and lockable castor wheels as standard.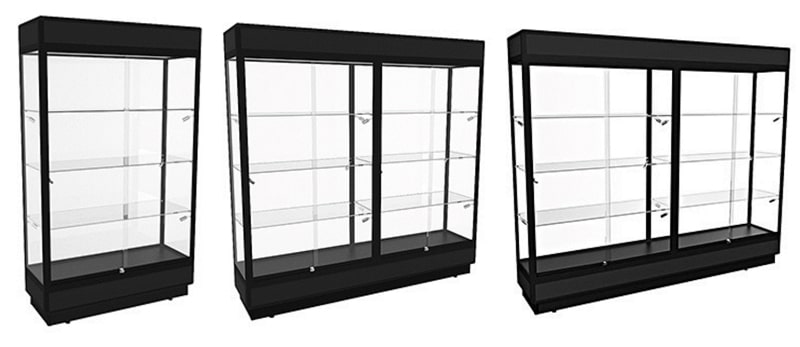 Cute, Cuddly & Compact
Our TGL 450 is a compact tower display cabinet ideal for collectors who are short on space but still want a showcase that has plenty of wow factor. This thrifty, stylish and eco-friendly cabinet saves on price without sacrificing quality. It features adjustable shelves, lockable doors and LED lighting, making it an excellent choice for collectors of smaller-sized Squishmallows and Squishmallow minis.
For Big, Small & Everything in Between
Who doesn't love some duel-purpose furniture? The CTGL 1200 Squishmallow display case doubles as a hallway table or glass buffet that melds perfectly into any home. It features lockable sliding doors for security, LED lighting and adjustable shelves, full glass sides for optimum visibility, and a mirrored base for the illusion of extra depth.
Manufactured right here in Australia by our expert craftsman, our Squishmallow display cases are designed to last with excellent value for money. And, with our price-match guarantee, you can rest assured your Squishmallow display cabinet will outdo any competitors on price and quality.
So what are you waiting for? It's time to bring your favourite plush toy collection to life. Call our Squishmallow display case consultants today on 1300 99 36 36 or book a visit to one of our showrooms in Brisbane, Melbourne or Sydney.