In recent years, more than 120 schools across Australia have made the switch to buying direct from the manufacturer and asked Showfront to custom-build their school trophy cases. Offering premium quality and outstanding value, Showfront offers a better value alternative to schools looking to make their limited budgets go further. In this article we explore some of the established buying practices in the school supplies industry and explain a little more about why we think smarter schools choose Showfront!
Buying a school trophy case the 'traditional' way...
Typically, cabinets for school memorabilia are purchased through school supplies companies, the quintessential 'middleman'. These are typically a one stop shop for all school-related products and provide everything from pens and textas to blackboards and paper. It's a good solution if you want convenience but what if you just want a display case? Purchasing through a school supplies company means you could be paying up to two or three times more for the school trophy case than if you sourced the product directly from Showfront, Australia's leading school display cabinet manufacturer. Significantly, it also means you're locked into buying a cabinet from your reseller's supplier and that means you may or may not get a broad range of options or top quality for your school's prized trophies and memorabilia.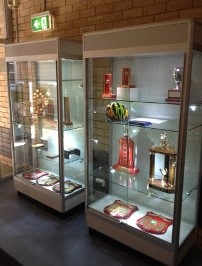 So why don't more schools buy direct?
Typically, many schools don't realise that they can buy direct from Showfront. Many school purchasing officers think they are somehow locked into buying from their school supplies company, but actually, nothing could be further from the truth! Showfront has been supplying display cabinets direct to schools Australia-wide for over 20 years and we find that schools are rarely 'locked in'.
Why buy direct from Showfront?
The first reason is value for money, the second is unbeatable Australian quality. Because of Showfront's larger size, we enjoy significant cost advantages which we can pass on to the customer without compromising quality. Our cabinets are also made right here in Australia so you can rest assured that your school is supporting Australian jobs and industry. We also offer significant expertise and in-depth consultation to find the best possible display case for your school trophies – something you're simply not going to get through a reseller. Our solutions are also scalable; we can deliver everything from a single display case to a dozen or more.
Unique product features
In addition to great value prices and premium quality, our school display cabinets have a number of unique features that allow schools to get the best from their cases. Lighting is a key element of any display and trophy cases are no different. Our range comes with a variety of eco-friendly, energy-saving LED spotlights and down lights, as well as strip lighting to showcase your awards to best possible effect. Our cabinets provide secure, lockable storage, shatter-proof safety glass and come in a huge range of shapes and sizes from Uprights and Towers to Mushrooms and Pedestals.
Custom-built just the way you want it
These unique features mean that we can supply your school with ready­made cabinets or have your display case custom-built entirely. You choose the colour, shape, size and fittings – we'll do the rest. You can even consider adding the school emblem to your trophy case for an extra touch of class.
Delivered fully-assembled Australia-wide
All of our cabinets are delivered fully assembled and completely hassle-free. No need for instructions, tools, assembly or the school janitor. Simply place your order and wait for the delivery to arrive. We'll even unpack the box for you and place it right where you want it. You can visit our showrooms in Melbourne, Brisbane or Sydney or you can view online and order now.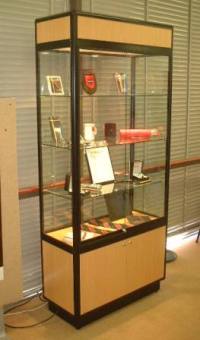 Which model to choose?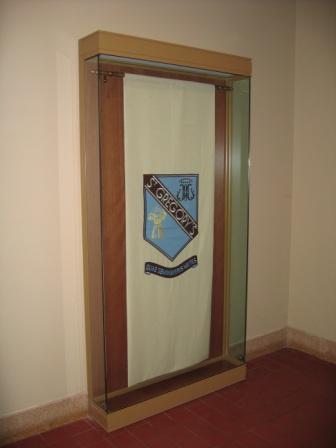 Every school Other favourites include the extra-large TTF 2400, a cabinet that will suit the needs of someone looking for plenty of space and unique features, and our TPFL 1000, another upright glass display cabinet with fantastic display capability, LED spotlights and down lights. We also have many unique shapes like Tower Display Cases, Mushrooms, Treasury Cases and even Corner Display Cabinets to maximise the space available. is different and so is its collection of trophies. That's why we offer such a wide range of trophy display cases. One of our most popular products is the award-winning TSF 1000, an upright glass display cabinet that features adjustable shelves, storage and LED lights
So give us a call to discuss your needs and find out how we can create a unique school trophy case just for you.
Showfront - beter quality, better value.
Durable, flexible, elegant and superbly crafted, Showfront offers a vast range of custom display cases for sale or hire. Compare the difference in price and quality - visit a Showfront showroom in Melbourne, Sydney or Brisbane. Buy online now or call our friendly team on 1300 99 36 36.