So. You've finally managed to score the Star Wars action figure you've been after for ages. Way to go! This is going to look great in…

a) A flimsy Perspex box?
b) On open shelving, gathering dust?
c) Squished into a small display case that doesn't even fit your collection?
No more! As Master Yoda once said, "Do or do not, there is no try". You need a fully customised, 100% Australian-made Star Wars action figure display case.
Showfront provides discerning Star Wars collectors with custom-built solutions to house your most prized Star Wars action figures. You get to choose every specification: custom colours, size, lighting, screen printing, shelving, frame and more. It means you will get exactly what you've always wanted; something stunning and unique, not just some clone (like Boba Fett).
Our Star Wars action figure display cases will ensure your favourite Han Solo Carbonite or original Darth Vader figurine are not only safe and sound behind lockable doors, they will also be kept safe from dust and spills, and grubby kids' hands or inquisitive pets. Plus, every unit features eco-friendly LED lighting as a standard feature, keeping lighting costs down and your models nice, cool and protected.
All Showfront display cases are delivered fully assembled to any address in Australia, so there's no fussing around with building flat-packed furniture yourself. The hard work is done for you already. You just plug it in, fill it with your favourite Star Wars action figures, then sit back and admire!
Here are five Star Wars action figure display case ideas to spark your creativity:
1. CBDL Pedestal Cube Display Case
The Showfront CBDL Pedestal Cube Display Case is the R2-D2 of our range can be customised for a large scale model or figurine to create an amazing showpiece. With easily adjustable shelves, the Pedestal Display Case also features a lockable glass hinge door as well as a lockable storage base for extra security.
2. WMC 1200 Wall Mounted Display Cabinet
For those needing a more flexible wall-mounted solution for their Star Wars action figures, the WMC-1200 works well as either a single unit or in a series. Eco-friendly LED strip lighting illuminates your prized Star Wars action figures perfectly. Access is via two lockable sliding glass doors with aluminium door pulls for safe opening and closing.
Our CT900 Coffee Table Display Case is a real showstopper! It's one of the most popular Star Wars action figure display cases in Australia and is a real conversation starter in the living room – perfect for displaying collectables such as the Millennium Falcon, X-wing, Y-wing or Imperial Star Destroyer. It features environmentally-friendly LED lighting and safety glass on five sides, plus it can be customised to match your existing décor.
This is another one of our best sellers as it's a great display case for those with limited space, like apartments or bedrooms. Many of our Star Wars collectors choose this model in either white or black, but the sky is the limit in terms of customised colours. Tatooine orange or Dagobah brown, anyone?
5. TGL-2400 Extra Large Display Case
While Jedi Master, Yoda, believes "size matters not", we happen to think the opposite when it comes to showcasing your collection. Showfront's TGL 2400 Extra Large Display Case is the pièce de résistance for a Star Wars action figure display.
Fitted with Australian safety glass, the TGL 2400 comes in a split front and back, with two sets of lockable sliding doors. Eight eco-friendly LED lights will showcase your collection in the best possible light. Imagine how many of your Star Wars action figures you could fit in here! (Head explodes like the Death Star).
Showfront is 100% Australian owned and made. In this era of sending most manufacturing offshore, Showfront Star Wars figure display cases are proudly manufactured right here in Australia, keeping skilled workers employed and helping to contribute to the local economy.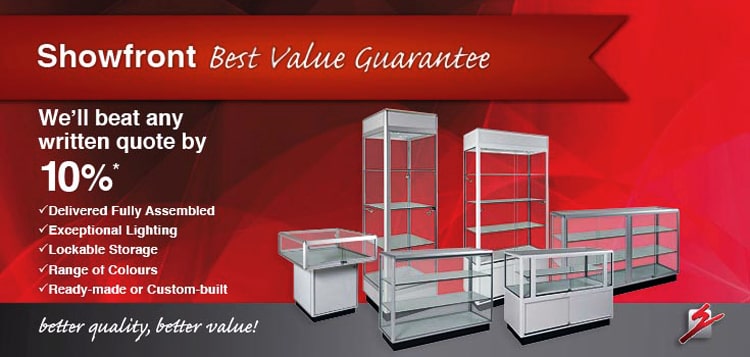 Plus, if you find a competitor offering a Star Wars display case with like-for-like specs ("Deceive you, eyes can!"), Showfront will beat the price by 10% -- GUARANTEED!
Whether you are simply looking for Star Wars action figure display case ideas or an entire cabinet system to showcase your collection, Showfront can help. If Lego is your thing, check out some of our previous posts, Lego Star Wars display case? The Force is strong with this one! and Lego Display Cabinets: 4 Fantastic, Affordable Ideas for Collectors
Call Showfront Collectors today on 1300 99 36 36 and have a chat to us about a Star Wars action figure display case or a fully customised solution to show off the favourite pieces in your collection.
Showfront – better quality, better value.
Durable, flexible, elegant and superbly crafted, Showfront offers a vast range of custom display cases for sale or hire. Compare the difference in price and quality - visit a Showfront showroom in Melbourne, Sydney or Brisbane. Buy online now or call our friendly team on 1300 99 36 36.