There comes a time in every Lego collector's life where he or she comes face to face with a difficult decision: you've bought the kit, invested the time and you just LOVE what you've built; the big question is this, how do I best display my collection?
There are lots of options out there depending on what you want to achieve. Very often the go-to display unit for Lego collectors is an acrylic display case. You know the type - small transparent boxes that keep the dust off - a good economic option that can sit on a table top and protect your showpiece.
But what if you want to take it to a new level? What if you want your Lego model to be a show-stopping feature, front and centre, right there in your living room, man cave or she den?
That's where Showfront comes in.
We cater for collectors who are really proud of their Lego displays and really want to showcase their beautiful collections. Check out our other blog post ideas for a Lego Star Wars Display Case, a Lego Display Case wth Lights or for supersized collections, you can also read more about customising a Large Lego Display Case.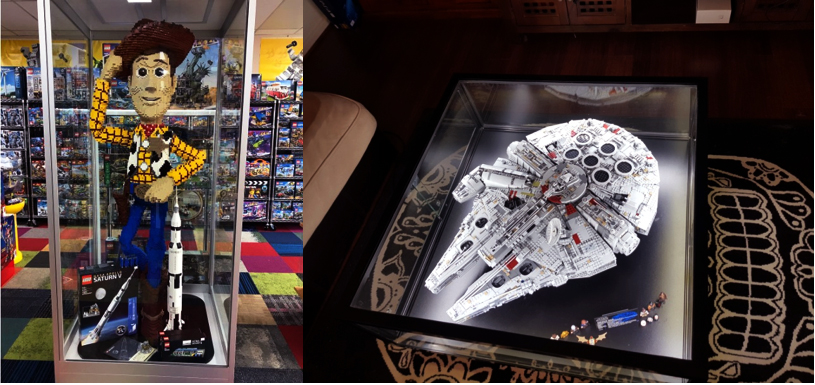 We've been custom-building collectibles display cases right here in Australia for over three decades and we've built display cabinets for every conceivable collection imaginable, from Lego to Star Wars, super hero figurines, dolls, swords, sporting memorabilia and more – each one customised to the exact specifications and absolute delight of their owner!
What Lego Collectors really want
Even though every Lego collection is different, there's a common thread in what Lego collectors actually want; excellent lighting, adjustable shelves and secure, lockable doors are in high demand. Colour too is important – most of our Lego collectors like our black or white cabinets (the silver colour is also popular but more common with retailers).
Collectors also want quality; a display cabinet that's going to look sensational and stand the test of time. If you're going to invest countless hours and hundreds (or thousands!) of dollars in Lego models, you want to display it in a cabinet worthy of the collection.
A small acrylic box just isn't gong to cut the mustard…
The following are 4 display cabinet recommendations for displaying your Lego collection.
CT 900 Coffee Table Display Case with LED Lighting – Fully assembled
Click here to buy online or view the product specs
This little beauty has been selling like hot cakes! The large, square 900 x 900mm is the perfect shape for a coffee table while LED strip lighting illuminates the display perfectly. This cabinet could be used for any Lego display but it's become massively popular for Lego Star Wars collectors who want to house the Lego Millennium Falcon.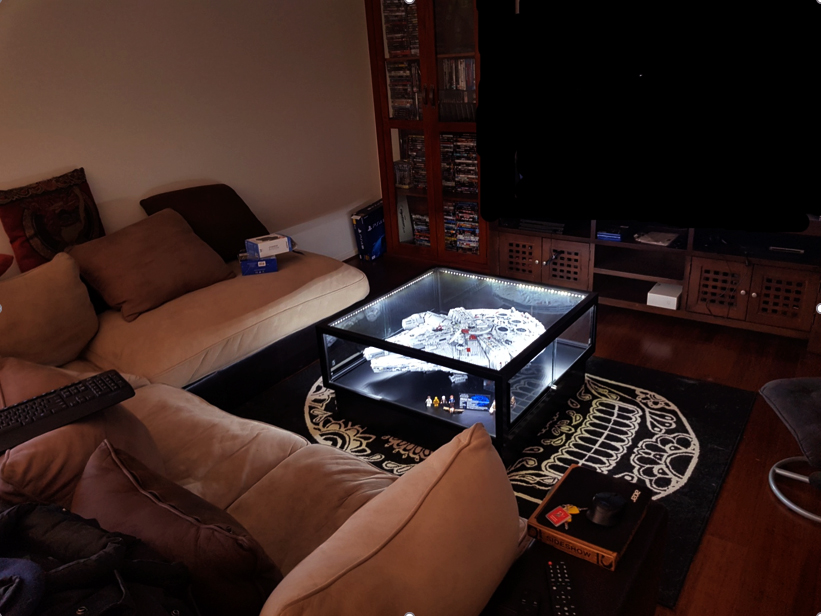 TGL 450 Tower Display Cabinet with LED Spotlights - Fully Assembled
Click here to buy online or view the product specs
This gorgeous, slimline 450mm x 450m Tower is the perfect Lego Display Cabinet for collectors who want to display lots of smaller pieces in a cosy space. Thrifty, stylish and eco-friendly with 5 x LED spotlights, the TGL 450 has been built to accommodate customers looking to save on price without sacrificing quality. It comes fully assembled with four adjustable glass shelves, safety glass and lockable doors.
TGL 600 – Tower Display Cabinet with LED Spotlights – Fully assembled
Click here to buy online or view the product specs
This is the big brother to our TGL 450. Every bit as elegant, eco-friendly and brilliantly lit with 5 x cool LED spotlights, our TGL 600 gives you that extra space to cater for larger collections or pieces. This one is just made for the living room, man cave or she den dweller.
TGL 1000 Glass Display Cabinet – Fully Assembled
Click here to buy online or view the product specs
The TGL 1000 Lego display cabinet is a living room master piece and a really popular option for Lego collectors with larger collections. This full glass cabinet puts your collection front and centre and will make you burst with Lego pride! Delivered fully assembled with 4 x eco-friendly LED spotlights, 3 x adjustable glass shelves, castors for mobility and levelling feet.
Every Showfront cabinet can be customised to your exact specifications, whether it's shape, colour, shelving, lighting or frame. They also come fully assembled on delivery. That's right, no fiddling around with screws and instructions, just plug it in and your cabinet is ready to display your Lego collection instantly. Isn't that a great idea?
Call Showfront today and ask about Lego Display cabinets for your collection.
Showfront – better quality, better value.
Durable, flexible, elegant and superbly crafted, Showfront offers a vast range of custom display cases for sale or hire. Compare the difference in price and quality - visit a Showfront showroom in Melbourne, Sydney or Brisbane. Buy online now or call our friendly team on 1300 99 36 36.