From unique shapes, sizes and styles to masterful Australian craftsmanship and outstanding customer service, Showfront is the perfect partner for your museum display cases.
All Showfront cabinets are hand-crafted right here in Australia at our manufacturing plant in Melbourne. Showfront is also 100% Australian owned. When you buy Showfront cabinets, you're buying better quality cabinets with a superb finish and better follow up support from our staff. You're also supporting Aussie jobs in the local economy.
Premium quality and unbeatable value for money! When you deal with Showfront, you're dealing directly with the manufacturer. No other museum supplies company will provide you with the same outstanding quality or best price guarantee – show us a written quote for a custom-built museum display cabinet of the same specification and we GUARANTEE we'll beat it by 10%!
In the past 20 years, over 50 museums, galleries and RSL's throughout Australia have chosen Showfront for their museum displays. Why? Because Showfront offers unrivalled manufacturing expertise, industry-leading quality and bespoke display solutions. When price and quality matter, ask Showfront.
Less hassle and fewer delays - when you deal directly with the manufacturer, you don't just get better prices, you get clearer lines of communication, faster delivery and superior project management. Why pay more and wait longer?
Flexible purchase options – our museum display cases come ready-made to buy online or we can custom-build a cabinet for you to your exact specifications and requirements. The choice is yours.
Visual representations - a picture tells a thousand words and for large scale projects, Showfront can provide a graphically designed visual (like the example below) to help with clarity and stakeholder discussions.
Scalable solutions - from a single display case to vast exhibitions and big city galleries requiring hundreds, Showfront caters for every budget and solution no matter how big or small.
Australian owned and operated - at Showfront we are immensely proud of our heritage and we are delighted that our display cases play a part in showcasing Australia's history to visitors from all over the world.
Delivery Australia-wide – Showfront delivers its museum display cases to every hamlet, town, region and city in Australia. No exceptions!
Our display cases come fully-assembled - no hassle, no headaches, no instructions, no DIY assembly, just unpack the box and start to display your artefacts instantly.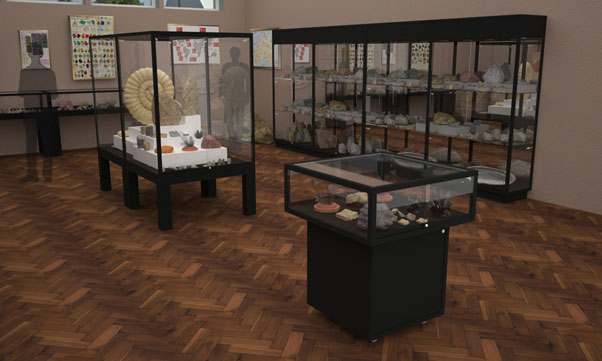 Showfront deigners can provide a graphically created museum concept for custom orders - call now to find out more.

Compare the difference in price and quality for yourself - buy your museum display supplies online or visit a Showfront showroom in Melbourne, Sydney or Brisbane today.
Showfront Museums – better quality, better value.
Buy online now or call our expert display consultants on 1300 99 36 36.