For over 10 years Showfront has supplied leading Australian retailer, Autobarn, with top quality cabinetry, service counters and shelving, and we're delighted to be involved in their ongoing national roll out which features Showfront's heavy duty MR 41 shelving range. We've put together this case study to highlight how the different units of the range can be used to display products beautifully and drive merchandising sales.
MR 41 Shelving with a Clip on Cabinet
This unique display solution has been designed to securely display high value products and limit shrinkage while maximising merchandising sales. A key feature includes internal LED lighting to highlights product features and gives a real boost to retail sales. It's a highly convenient security solution but the lightweight frame is also very mobile and can be transferred easily to any other MR 41 shelving unit in the store. Importantly, this is an ideal solution for aerosol cans like spray paints which are required by law to be displayed securely in certain municipalities.
MR 41 Battery Stand Solution
How's this for a heavy duty shelving solution? Designed to safely display heavy products, these shelves are holding over 1,000kg of batteries! The angled shelves allow customers to easily and safely reach in and pick up the batteries as required.
MR41 Double Sided and Single Sided Bays with Punch Panel
An excellent solution for merchandising, Showfront's MR 41 offers super friendly, single sided and double sided bays allowing retailers to easily mix up displays as stock comes in and out.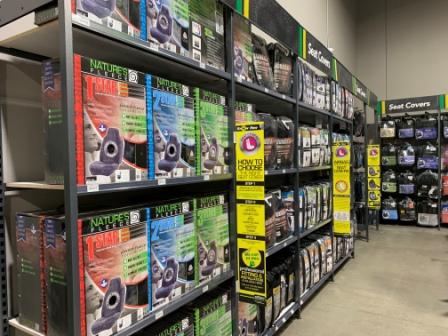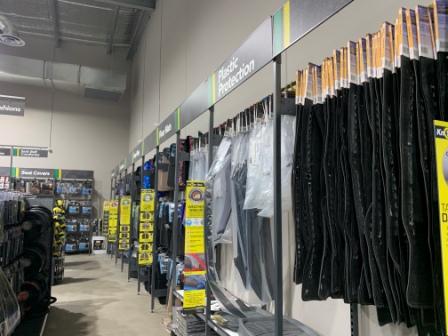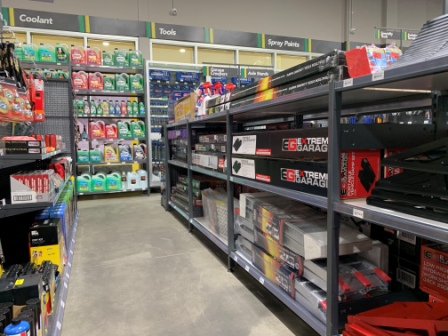 MR41 Single Sided Combo Racking System
MR41 Single Sided Combo Racking System
Showfront's Single Sided Combo Racking System comes in two heights (2400mm and 2600mm) and two widths (1200mm and 1800mm). It's an ideal free-standing, heavy duty, bulk storage solution for larger products like car jacks, air compressors, motors and mowers.
We're delighted to play our part in Autobarn's continued success as a household name in Australian auto retailing and, of course, we extend our thanks to our friends in Autobarn Cragieburn for allowing us to showcase the products.
Better quality, better value –that's Showfront.
Showfront – better quality, better value.
Durable, flexible, elegant and superbly crafted, Showfront offers a vast range of custom display cases for sale or hire. Compare the difference in price and quality - visit a Showfront showroom in Melbourne, Sydney or Brisbane. Buy online now or call our friendly team on 1300 99 36 36.