Small museums and galleries are the beating heart and soul of Australian heritage protection. They showcase so many precious, cultural treasures that keep our shared history alive in an ever changing modern culture. Staffed by hard-working volunteers, Australia would be a much poorer place without their dedication and commitment.
Showfront has been helping regional galleries and museums all over Australia for more than 25 years and we were delighted to attend the recent Australian Museums and Galleries Association National Conference 2019, held in Alice Springs from May 13-17.

As one of the major sponsors, the Showfront team were represented by GM, Sam Makdissi, and sales consultant, Justin Gilmour. We were delighted to meet the many curators and directors from all galleries, great and small, in a celebration of Australian heritage.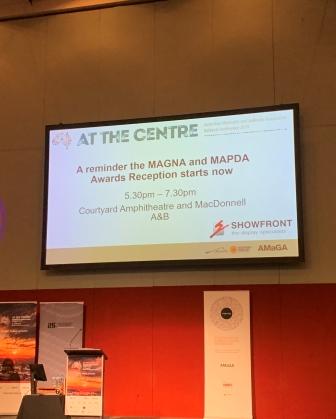 Our hand-crafted display cabinets strike a chord with museum curators. Made right here in Australia, they can be customised to meet the exact requirements and budget of any museum or gallery, no matter what the size. A big part of what we do is to consult on the shape, lighting and configuration of the cabinets to create effective solutions for what will work best in the display space available. And of course, we're delighted to follow up with great customer service or even assist with tenders and proposals when needed.
We were delighted with the response to our sponsorship and we'll certainly be back again next year at the 2020 conference in Canberra next year.
Showfront – better quality, better value.
Durable, flexible, elegant and superbly crafted, Showfront offers a vast range of custom display cases for sale or hire. Compare the difference in price and quality - visit a Showfront showroom in Melbourne, Sydney or Brisbane. Buy online now or call our friendly team on 1300 99 36 36.