Choosing the ideal glass display unit for a retail store is never easy - budget, size, lighting, shelving, mobility and colour are just some of the options that go into the decision making process. With a vast array of options available from the Showfront online store, and indeed, from the broader retail display market, we thought we'd spend a little time delving into the issue to help retailers understand the decision-making process a little better and help them to make better choices.
For many retailers, a glass display unit must have a distinct look and feel. If you're selling valuable products like jewellery or giftware, there's little point in skimping on quality as your showroom just won't sell premium merchandise convincingly. To use a simple analogy, you wouldn't serve cordon bleu on a Tupperware tray –so doing your product justice with a glass display unit of suitable quality is extremely important for visual merchandising.
Budget
An equally important consideration is budget. There are a variety of options out there in the market to suit a whole range of budgets but at Showfront, we believe in great value for money. Everyone wants their budget to go further. The key to getting value for money is ask our expert consultants about tailoring a solution for you – with over 20 years experience in custom-manufacturing commercial display cabinets for retailers big and small all over Australia, you can rest assured we're probably done it all before many times over, and we can advise you on what will deliver the outcome you wish to achieve and fit into your budget. In fact, it's highly likely that we may even find an option that you've never thought of, whether it's making your budget go further, maximising the display area or simply improving the merchandising experience. The golden rule is to call us up and ask! We're always happy to help.
Flat Pack or Fully Assembled?
Deciding whether to opt for a fully assembled display unit or a cheap, imported flat pack option is also important. We have previously explored the differences between fully assembled display cabinets V flat pack display cabinets in another blog post, but at Showfront, we believe there's only one way to deliver a display unit, and that's fully assembled. We take all the hassle out of buying display cabinets and we only deliver our units fully assembled. No need for the tool kit or assembly manual and you won't suffer a single minute of down time!
Shape and Size
Glass display units come in a huge variety of shapes and sizes. Upright display units in the Showfront range can vary from 1 to 4m wide. In fact, we can custom-make any size but most of our larger ready-made units generally top out at 2-3 meters across. Understanding the different shapes available can lead to much better decision making. On the retail floor, space is at a premium so getting the right display unit shape in place is vital to creating the right visual effect.
Units can be small, like Cubes and Pedestals or tall like Towers and Uprights. We also provide a range of display counters, including full glass and half glass options with storage. The best way to decide which retail display unit to buy is to first establish your visual merchandising plan, i.e., map out the experience you want your customer to have in-store and plan accordingly for the shape of the merchandise. Mushrooms and cubes are fantastic for creating a centre piece on the shop floor while upright units and towers are more traditionally lined against the wall.
A real gem for the discerning buyer is our Treasury Case – a huge hit with offices, museums, collectors and schools. This stunning custom display unit is completely unique to the Showfront range and creates a look of effortless sophistication.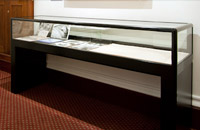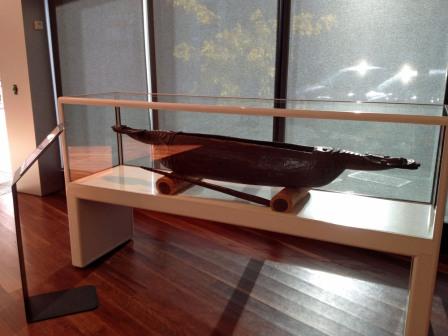 Lighting
Lighting is also a strong consideration with multiple options for downlights and spotlights. Spotlights can really make your merchandise glow and are particularly popular amongst jewellers. For retailers with delicate merchandise or a keen eye for electricity bills, something to consider for your display unit is LED spotlights and downlights, which are much cooler than regular globes. They're cheaper to run, better for the environment and won't damage your display items with heat. Showfront only uses LED in our lighting. Ask us about options for your shop display unit.
Functionality
Another extremely important factor is the functionality of the unit. Do you need your display cabinet to have storage? This is particularly relevant for shop counters that double as a display unit and also need some practical storage at the point of sale. Mobility is also a consideration. As stock turns over, you may feel the need to adjust the position of the cabinet to optimise space and display capability. Castors for mobility are essential here.
Shelving
Shelving is also important - should the shelves be fixed or adjustable? Adjustable shelving will certainly give you more options when it comes to rotating stock and any quality glass display unit should always allow for this.
Colour
Finally, colour is absolutely critical to a successful display. The universal colour for display units is silver – a bit like the way beige used to be the colour of PC's back in the 90's. There's nothing wrong with silver - it's simple, it blends in, in many ways you can't go wrong. But if you're looking for something a little different that will really make an impact on the retail floor, consider adding a touch of class to your cabinets by opting for sleek black, elegant white or even a completely customised colour to match your branding. It makes such a difference on the shop floor when you have a branded display unit! Ask us about branding your display unit – it's surprisingly cost-effective and adds a superb touch of class.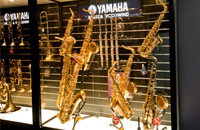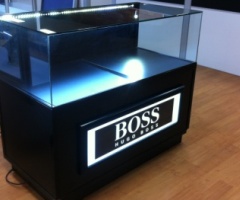 Call Showfront today and ask our expert shop fittings consultants about glass display units for your retail store. We're happy to talk you through the myriad options and provide a high quality solution tailored exactly to your needs.
Better quality, better value - choose Showfront.
Durable, flexible, elegant and superbly crafted, Showfront offers a vast range of custom display cases for sale or hire. Compare the difference in price and quality - visit a Showfront showroom in Melbourne, Sydney or Brisbane. Buy online now or call our friendly team on 1300 99 36 36.