ADX14 Sydney - Last Call to Hire Display Cabinets!
On 21st - 23rd of March, ADX14 returns to the Sydney Exhbition Centre! As Australia's premier dental event, it's the industry's place to be seen and found as dentists, prosthetists and allied oral health professionals from all over the country gather to 'buy, see and learn' about all the latest dental care products from Australia and overseas. It's also a busy time for the Showfront Exhibition Hire team who will be organising hire display cabinets for the many exhibitors at the event.
With an expected attendance of over 7,500 dental professionals, the ADX14 expo at Sydney's newest exhibition centre @ Glebe Island promises much with over 200 suppliers and keynote speakers from Europe and America promoting the most cutting-edge techniques and technology in the dental industry. From orthodontists and periodontists to dentists, dental nurses, hygienists and technicians, Australia's biggest dental expo offers an enormous opportunity to target a captive audience in one single arena.
If you're attending the expo and still haven't organised hire display cabinets, contact our friendly hire team at Showfront on 1300 99 36 36 – we're always happy to help. As long standing suppliers of premium quality hire cabinets to ADX events, our team will best be able to advise you on how to stand out at the show and make an immediate impact with your display.
Offering unrivalled quality and unbeatable service, you can hire your display cabinets direct from Australia's largest display cabinet exhibition hire company.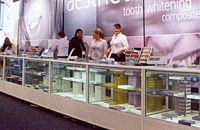 We find that white hire cabinets in particular are extremely popular at the ADX. With obvious associations with hygiene, our white hire cabinets tend to sell out fast so don't bedisappointed if you haven't got in early! We also have a wide range of Hire Display Counters and Hire Tower Cabinets available in a variety of colours and styles. Showfront's Exhibition Range comes with a superb range of downlight and spotlight options to really make your merchandise shine!
Enjoy the show and watch out for the Showfront logo on our display cabinets!
Showfront - beter quality, better value.
Compare the difference in price and quality for yourself - hire your display cabinets online or visit a Showfront showroom in Melbourne, Sydney or Brisbane today.
Hire online now or call our expert display consultants on 1300 99 36 36.