"You can have any colour as long as it's black", said Henry Ford, quite famously. Of course, the motor industry has come a long way since then but there is an interesting parallel between this early 20th century approach to automobiles and Hire Cabinets for exhibitions. Take a quick look around at the next trade fair you attend and you'll notice that the display cabinets on hire have almost all got something in common – they are exactly the same colour! But they're not black, they're grey. Everywhere you look you will find the ubiquitous silvery-grey of aluminium and nobody looks any different. Unless, of course, you've hired premium range Black or White Hire Cabinets from Showfront...
Firstly, there's there's nothing wrong with silver-coloured hire cabinets - Showfront provides stunning silver-coloured hire cabinets as part of it's regular Hire service. Further, a well thought-out display on the exhibition stand will always look good and attract an audience. But if you're looking to differentiate your stand with an extra touch of class and steal a march over your competitors, you may want to consider a different colour. That's where the premium colour range of hire cabinets from Showfront comes in – our hire cabinets come in a superb Black or White finish that really sets merchandise apart.
Black provides the perfect backdrop for sparkling jewellery or beautiful artefacts like antiques. White Display Cabinets also look superb for jewellery as Gold River Jewellers, from Fortitude Valley in Brisbane discovered at the recent Wedding Expo 2013: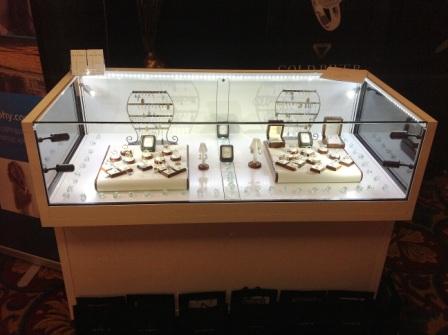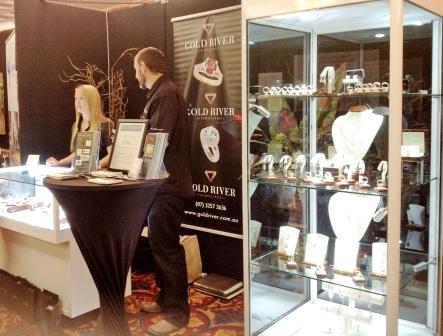 "I would just like to say that I was blown away with how fantastic the cabinets were, they looked stunning on the day and really made the jewellery sparkle, I will definitely recommend you guys as the delivery was spot on too. We will without doubt use you guys next time, thanks a lot for all your help!"

- Courtney Warner, Gold River Jewellers
We're delighted that Gold River had such a fantastic experience but it's not just jewellers who appreciate the difference. Our White Hire Cabinets are ever popular across multiple industries including ADX – Dental Tradeshow & Exhibition. Nobody needs to explain to a dentist that white is the colour of cleanliness and hygiene, and our White Hire Display Cabinets go like hot cakes at these events!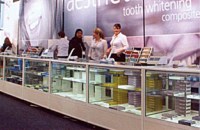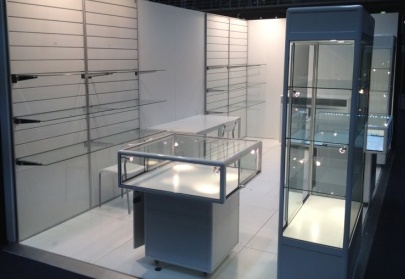 Black and White Hire Cabinets are unique to the Showfront range and simply cannot be found elsewhere. If you're interested in hiring Black or White Exhibition Hire Cabinets to ensure your merchandise looks its absolute best on the display stand, call Showfront now and ask us about our premium range of hire cabinets. It's a style thing...
Showfront - better quality, better value.
Durable, flexible, elegant and superbly crafted, Showfront offers a vast range of custom display cases for sale or hire. Compare the difference in price and quality - visit a Showfront showroom in Melbourne, Sydney or Brisbane. Buy online now or call our friendly team on 1300 99 36 36.