To sell premium products, you need a premium display – that's visual merchandising 101 and it's a concept that Myer have mastered wonderfully over the years! The retail giant needed top quality display cases to showcase their top of the range headsets for six of its stores and the Showfront team were delighted to help out by custom manufacturing two unique display case designs to stand out on the shop floor.
Visual merchandising is nothing short of a fine art these days and retailers are constantly looking for new ways to differentiate their merchandise and drive sales.
Showfront's first challenge was to create a custom-crafted Pedestal Display Case that would stand out on the retail floor and attract customers with an eye-catching display. A single premium product would be given pride of place in each pedestal display case, illuminated beautifully with LED strip lighting.
Making a feature of a new product or brand is nothing new to retailers – it's a time-tested formula that works effectively but the real art is in the execution and the feedback from our friends at Myer has been wonderful.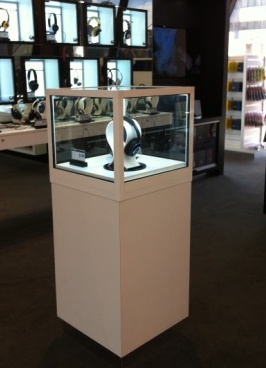 The second challenge was to create an elegant but practical display counter with LED lighting, storage and lockable drawers. Every busy retail counter needs practical features for the sales person to operate effectively and Showfront specialises in blending unique style with superb functionality.
With over 20 years of custom-manufacturing premium display cabinets, Showfront has worked with the largest brands in Australia on a local and national level. Whether you require a complete shop fit out or custom display cabinets for a unique visual merchandising experience, the expert display consultants at Showfront are here to help. Call now on 1300 99 36 36.
Better quality, better value – that's Showfront.
Durable, flexible, elegant and superbly crafted, Showfront offers a vast range of custom display cases for sale or hire. Compare the difference in price and quality - visit a Showfront showroom in Melbourne, Sydney or Brisbane. Buy online now or call our friendly team on 1300 99 36 36.