Optus Kiosk by Showfront
First of all, why choose a retail kiosk? Or mall kiosk, as they are sometimes known? Well firstly, shopping centre kiosks offer the retailer high visibility branding opportunities with significant footfall. Typically located right in the middle of the shopping mall, kiosks are pretty hard to miss and are particularly suited to the FMCG (fast moving consumer goods) market where impulse buying is a huge driver of sales.
Secondly, the investment required to fit and lease a kiosk is usually significantly less than that of a shopping centre store. Whether you're a new retail outlet starting out and looking to test the market or an established chain with nationwide footprint, the economic benefits can be attractive.
So how do you go about creating a retail kiosk that will not only drive sales and attract attention but also create a unique, visual merchandising experience in a busy shopping mall? It may seem like a daunting task but that's where Showfront can help with some really great ideas. Remember, nothing replaces experience and the experts at Showfront have seen and done it all before.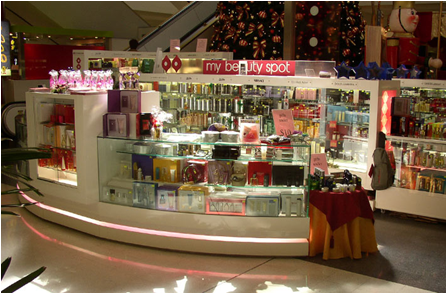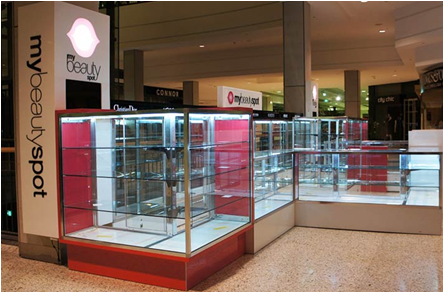 My Beauty Spot shopping centre kiosks supplied nationwide by Showfront
We can either design the Kiosk for you using 3D imaging or custom-build the kiosk to a design idea that you supply. We can also offer some helpful practical advice on what will work best in terms of functionality and structure – unfortunately, not every design translates perfectly from the drawing board to reality and we find it's usually best to involve your kiosk manufacturer (yes, that's us!) at an early stage in the design process.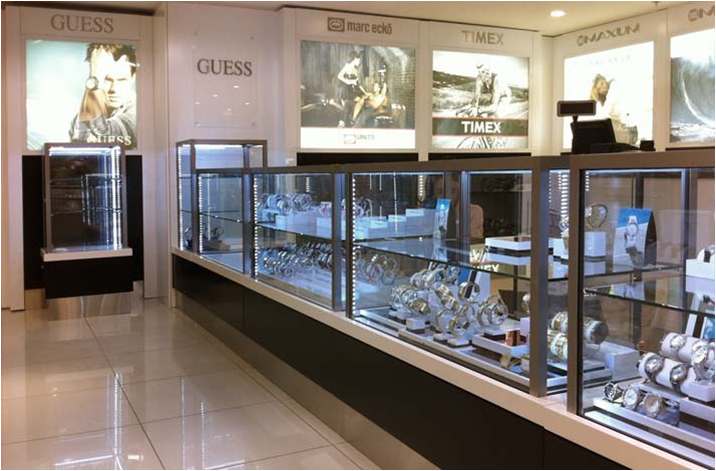 In-store Watch Kiosk custom-built by Showfront at Myer, Sydney
From universally recognised retailers like My Beauty Spot, Optus, Myer and My Chemist to smaller start-up local retailers, Showfront retail kiosks offer outstanding quality and unbeatable value for money. Call Showfront today on 1300 99 36 36 and ask about a custom-kiosk for your brand.
Better quality, better value - choose Showfront.
Durable, flexible, elegant and superbly crafted, Showfront offers a vast range of custom display cases for sale or hire. Compare the difference in price and quality - visit a Showfront showroom in Melbourne, Sydney or Brisbane. Buy online now or call our friendly team on 1300 99 36 36.