With the imminent launch of Australia Post's commemorative Black Caviar

stamp at the World Stamp Expo 2013, Showfront got the call to build a bespoke Display Stand, worthy of the champion herself, to showcase her trophies and memorabilia. The brief also included tailored cabinetry to promote Australia Post merchandise that would function as a philatelic hub at the very centre of the Royal Exhibition Building, Melbourne.
Black Caviar needs no introduction. A household name and arguably Australia's most successful race horse ever, Black Caviar won 25 races in a row, a record not equalled in over 100 years, and was consistantly ranked amongst the world's best racehorses. She now sits alongside the legendary Phar Lap in the anals of race horsing history.
With over 90 stand holders coming to Melbourne from 10-15th of May for the World Stamp Expo 2013, Australia Post were always going to be the very centre of attention. With such a splended opportunity to showcase their philatelic division (philately is the study of stamps and postal history and other related items), Australia Post were commissioned to launch a new stamp in honour of Black Caviar's retirement.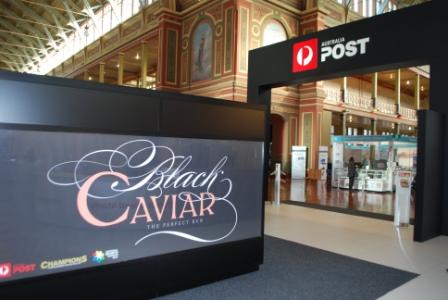 Now, supplying display cabinets for many prestgious brands and events (see Johnny Walker Diamond Jubilee Display Case and Showfront Display Cabinets for the Testra Museum), is not new to Showfront but custom-building a highly visible, well lit, highly secure, 4m x 4m trophy cabinet for Black Caviar's 25 trophies was truly special for the Showfront team. The display stand was elegantly styled and branded in the traditional colours worn by her champion jockey, Luke Nolen.
The feedback from Austalia Post was smply wonderful and we couldn't have been happier when we received the following from Vanessa Rouse over at Australia Post:
"On behalf of Australia Post I wanted to thank Showfront for your invaluable contribution to the most successful Stamp Show ever held in Australia.

Your assistance enabled Australia Post to realise the ambitious Black Caviar exhibition, and more importantly revamp the entire visual merchandise displays for the Philatelic Unit. The quality and beauty of cabinetry was admired by thousands of patrons and international postal administrators.

There is no doubt that your work contributed to the record breaking sales at the Australia Post stand. Your flawless craftsmanship was only surpassed by your extraordinary service and commitment to production."

- Vanessa Rouse, Project Manager, World Stamp Expo 2013
Many thanks to everyone at Australia Post for the opportunity to help out. We were delighted to play our part in such a great event.
Call Showfront now on 1300 99 36 36 to ask our expert display consultants about customising a display stand or cabinet for your event.
Showfront – better quality, better value
Durable, flexible, elegant and superbly crafted, Showfront offers a vast range of custom display cases for sale or hire. Compare the difference in price and quality - visit a Showfront showroom in Melbourne, Sydney or Brisbane. Buy online now or call our friendly team on 1300 99 36 36.