There's much to be said about the spectacle of Cirque Du Soleil. It's one of the largest theatrical producers in the world, bringing live music, stunning acrobatics and contemporary circus theatrics to an international audience. Not to mention those intricate costumes the performers wear…but it's a shame they can't be appreciated up close. Enter Showfront's brand new MANQ800S Mannequin Display Cabinets.
This February, Showfront and Cirque Du Soleil partnered to change this as part of a unique marketing campaign for the production company. In the lead up to their February show in Melbourne, Cirque Du Soleil wanted to give Melbourne a chance to experience the show from another perspective, as well as increase ticket sales and drum up hype. The solution? A limited-time exhibition of the show's famous costumes.
For the first time ever, Melbourne's Highpoint customers were treated to an enchanting scene with a stunning exhibition of these stunning handcrafted costumes – yes, the very ones the performers wear!
Our extra large, well-lit mannequin display cabinets were perfect for displaying Cirque Du Soleil's ornate garments to Highpoint customers. The captivating display featured the designs from acclaimed Australian costume-maker Kym Barrett, whose designs you've seen in Baz Lurhmann's Romeo and Juliet and The Matrix series.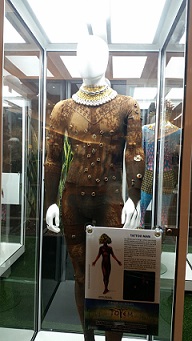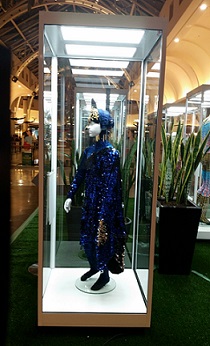 Cirque Du Soleil's Totem costumes in Showfront's MANQ800S Mannequin Display Cabinets at HIghpoint SC
To say we wanted to do these costumes justice is an understatement, so we knew we had to use the best mannequin display cabinets to really ensure Barrett's designs created a spellbinding scene for shoppers. After all, these clothes are a large part of the story-telling process.
Using our brand new MANQ800S Mannequin Display Cabinets with LED Panels, we were able to let the clothes tell a magnificent tale about the underlying themes of the show: evolution, documentary-based reality and the natural world. For those who weren't familiar with the show, it was a wonderful first encounter that allowed them to witness the beauty of Cirque Du Soleil with their own eyes.
Six of our display cabinets were used, and featured a fantastic display of neon-bright colours, vivid, glittering fabrics, thousands of real crystals, and textured fabrics that truly need to be seen to be appreciated. Our enclosed mannequin display cabinets also come with security locks which ensured that the designs were kept safe and secure in Highpoint's high foot traffic area.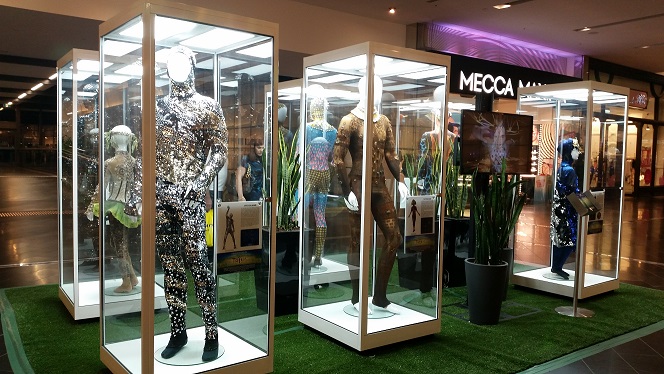 We now have these mannequin display cabinets available in our online store. They come fully assembled, and can be delivered to any location in Australia.
Do you have a story to tell? Let Showfront help. We ship Australia-wide from our showrooms in Melbourne, Brisbane or Sydney and even install it for you. Call 1300 99 36 36 to find out more.
Showfront - better quality, better value.
Durable, flexible, elegant and superbly crafted, Showfront offers a vast range of custom display cases for sale or hire. Compare the difference in price and quality - visit a Showfront showroom in Melbourne, Sydney or Brisbane. Buy online now or call our friendly team on 1300 99 36 36.