We wish you a Merry Christmas and a Happy New Year! Many thanks to all our customers Australia-wide for your support in 2013.
After another successful year in 2013, Showfront and its hard working staff will be taking a well deserved break over the Christmas period. Last orders for Display Cabinets, Kiosks and Shop Fittings in 2013 will be taken on December 20th. Our offices and showrooms in Sydney, Melbourne and Brisbane will re-open on Monday 6th of January 2014. Showfront would like to extend a huge thanks to it's wonderful customers all over Australia for their support throughout the year.
It's been a very tough year for Australian retail and more broadly, the manufacturing industry across all States. Victoria in particular has been badly hit, where we've had yet more bad news in relation to Holden, which has simply added to the list of Ford, Alcoa, and other closures.
But it's not all doom and gloom and Showfront has certainly enjoyed consistent support from its wonderful customers throughout the year and welcomed many more new clients on board.
Some of the higlights for us this year have included collaborating on some really wonderful projects like Australia Post's launch of the Black Caviar Stamp where Showfront was asked to provide a custom-built exhibition stand at the World Stamp Expo 2013. View the footage above to see what we did!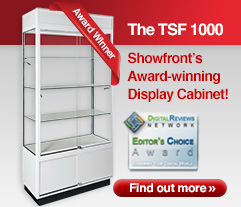 Our best-selling TSF 1000 Display Cabinet received a 10/10 rating plus a much coveted 'Editor's Choice' award on Product Review, an achievement that we are extremely proud of!
We have welcomed many new schools and universities on board including Griffith Uni, where our display cabinets were used to create a fascinating anatomical display (sorry, no photos allowed!).
We were equally delighted to welcome new museum clients on board including Frankston Historical Museum and many others.
And of course, we would also like to extand many thanks to our ever supportive retail and hire clients.
Wishing you all a very merry, safe, happy Christmas and New Year. We'll see you again in 2014.
Showfront - better quality, better value
Durable, flexible, elegant and superbly crafted, Showfront offers a vast range of custom display cases for sale or hire. Compare the difference in price and quality - visit a Showfront showroom in Melbourne, Sydney or Brisbane. Buy online now or call our friendly team on 1300 99 36 36.