If you've been out and about on a shopping spree recently, you may just have come across one of the latest trends in retail - pop up-shops! They are literally popping up everywhere, providing retailers with an easy and economical way to promote their presence, brand and merchandise for a short time period. In this article we explore the fast growing phenomenon of pop-up retail and provide some do's and don'ts for anyone considering the idea as part of their marketing strategy.
Firstly, what is a pop-up shop and how long does it last? Pop-up shops or (pop up-stores) are temporary retail outlets that last from a few days to several months. The concept is based on utilising vacant space for a short period of time in a commercially viable location. With pop-ups, anything goes and they can appear anywhere from shopping malls with high pedestrian footfall to public events and sporting occasions. Anywhere, in short, where people are likely to be found with a propensity to spend money! As with any form of retail, the primary consideration for success is location.
Fashion labels were the first retailers to follow restaurants with the pop-up concept. Many are established brands but other retailers have used pop-up shops to test out new markets, merchandise and locations. It's a great way to test the commercial viability of a location or product line without having to engage in a long term lease. For some major brands it's not always about sales, it's about strategic visibility and promotion for their brand at key events. For major retail brands, it's not uncommon for a pop-up store to be promoted on radio and even feature a celebrity guest for a short period.
Very often brands will use social media to promote their pop-up shop with announcements on Facebook and Twitter highlighting occasions like a Valentine's Day or Mother's Day special.
Pop-up displays come in various guises - they may come in kit form for easy assembly and re-use or something a lot more robust with a full shop fit-out. The fittings you choose will depend on your brand strategy. Something that looks a little cheap and flimsy may be at odds with a premium brand. On the other hand, you don't necessarily need a full shop fit out either, as the temporary nature of a pop-up store may not justify a significant outlay.
One option retailers can consider is hiring shop fittings, especially for short term projects based on red letter day events like the Repco auto accessories pop-up shops that appeared for Father's Day in the Westfield Shopping Centres at Knox and Fountain Gate in Melbourne. These pop-up stores used Showfront metal racking units and counters and were a feature for the two weeks in the lead in to Father's Day.
Showfront also supplies a huge range of display units, fittings and display cabinets for sale or hire that can easily accommodate pop-up stores of a completely different nature. Some units may need to be visible from all four sides, others merchandise may be better viewed front on.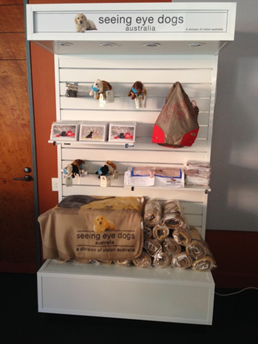 If you're displaying goods in a shopping centre for a short period of days or weeks, hiring modular units may be a more economical option. In such a case, Showfront's cabinet hire range can easily be adapted to fit the requirements of a pop-up shop.
Alternatively, you can choose from our range of premium quality display cabinets for sale if your pop- up display is going to be around for a few months. Buy our ready-made display cabinets online or call us for customisations if you would like additional colour, lighting or branding. Our display cabinets come in a huge range of shapes and sizes and can be tailored to suit any requirement.
A great example of a pop-up shop created by Showfront at an exhibition venue was for Australia Post's Black Caviar exhibit at the World Stamp Expo. Sales went through the roof at the Australia Post stand as visitors were presented with superbly presented merchandising and a fantastic visual experience to accompany Back Caviar memorabilia. You can read more about it the Black Caviar exhibit here.
Perhaps the ultimate example of a pop-up store, however, is the good old shopping centre kiosk. Nothing new here - they've been around for years. Ever reliable as a low-cost market entry option, shopping centre kiosks have been the main stay for short term leases before the term 'pop up shop' ever became fashionable. The main difference of course it that while kiosks are at a much lower prices point that leasing a retail premises, they can be longer term - some kiosks operate successfully for decades.
This longer term option is what makes kiosks a little different from pop -up stores but it is possible to blend the concept and have pop-up kiosks. A pop-up kiosk may be the ideal instant retail solution for anyone considering a lease of a few months or longer who needs a more robust solution. Showfront's range of display units can be easily adapted to create a permanent or pop up kiosk whether tis through sales or hire.
If you're interested in finding out more about pop-up displays, contact our expert consultants today and find out how we can tailor a solution for your pop-up shop success.
Showfront – better quality, better value.
Durable, flexible, elegant and superbly crafted, Showfront offers a vast range of custom display cases for sale or hire. Compare the difference in price and quality - visit a Showfront showroom in Melbourne, Sydney or Brisbane. Buy online now or call our friendly team on 1300 99 36 36.